Invisible Women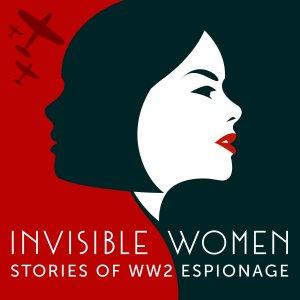 Sisterhood
March 08, 2021
Invisible Women is celebrating International Women's Day with the release of Episode 5. This episode is about the power of Sisterhood and women leading, supporting and empowering women and others with compassion, strategy, intelligence and bravery so everyone may benefit.
In this episode you'll hear Pet's story, a young woman who lived in Amsterdam during WW 2. At the behest of her mother, she couriered for the Dutch resistance, traveling into the countryside carrying documents and funds for downed Allied pilots.
Pet talks about how the women in her household and in the resistance demonstrated a parallel way to resist without male oversight. Sisterhood resisting was coupled with extreme risk, strategy, and compassion.
Episodes include war-related content that some listeners may find disturbing and/or traumatizing.
Episode Details
Sisterhood
Podcast Episode #05
Created by: Diane Greig
Produced by: Robert Ouimet
Runs:39:08
Credits
Host and Writer: Diane Greig
Pet: Lucia Frangione
Casting Director: Eileen Barrett
Producer: Robert Ouimet
Sound engineer: Matt James
Show Notes
The Newgrange passage monument in County Meath, Ireland 
The great goddess , great mother archetype
Women working together as resistors
Pet's story in the Dutch resistance
Introduced to espionage by her mother
First harrowing experience as a courier
A Dutch pilot's tragic consequences
Hiding under the floorboards
Hiding a Jewish family in the attic
Getting Father out of prison
Quick minded and not excitable, my cover was my innocence
A close call on the train
What you need to do, you don't talk about it
Mother was a role model, defiant and compassionate
Moving to Canada

Links and Resources
Holland's occupation during WWII
Dutch Resistance ambushes SS officer
Dutch citizens resist Nazi occupation, 1940-1945
WWII Netherlands Escape Lines
How a Young Audrey Hepburn Helped the Dutch Resistance
Sisters in the Resistance: How Women Fought to Free France – Margaret Collins Weitz
How a Jewish teenager infiltrated a Nazi headquarters (YouTube video)
Psychological – Archetypal
In Search of The Divine Feminine with Jungian Analyst Anne Baring (Audio)
Marion Woodman: Dancing in the Flames (YouTube video)
The Great Mother (Wikipedia)
The Great Mother: An Analysis of the Archetype – Erich Neumann
Newgrange prehistoric monument


All Episodes in this Series
Sign up for the Newsletter
Get updates directly to your email. We promise, no spam.
---
Download Episode