Don't Stop Us Now! Podcast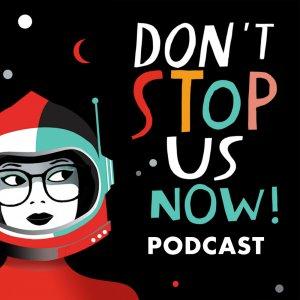 Latest Episodes

August 13, 2019
Our guest this week is the incredibly inspiring Martha Lane Fox, one of the UK's most well known and respected technology leaders and society shapers. - In 1997 Martha was 25 years old when she became co-founder of Lastminute.com,

July 30, 2019
We're excited to share this week's episode featuring someone who's had an extraordinary career at the cutting edge of space exploration. Trudy Kortes is the Chief of the Human Exploration and Space Operations Division at NASA. With her day job,

July 16, 2019
Our guest this week is one of the most determined and resilient people we've ever met. For the past 14 years she's been on a mission to improve education for millions of children in Ethiopia encountering challenges on almost every front.

July 02, 2019
Our guest this week is a serial entrepreneur and one of Australia's richest and most successful women. She's also one of the humblest and most honest people you're likely to meet. We're talking about Cyan Ta'eed,

June 18, 2019
Don't forget to enter our competition (below) to win a free coaching session with Claire and Greta. This week we explore what you can do when you have that horrible feeling you're trapped in your job… for whatever reason. -

June 04, 2019
Our guest this week has a habit of saying "yes" to things she doesn't know how to do... such as designing women's wear collections for Nordstrom when she'd never designed clothes before! - We're talking about the unbelievably stylish entrepreneur,

May 21, 2019
We don't think we've ever had a guest who is prepared to be as open and honest about her life and career as Mia Freedman is. Whether it's in our conversation for this episode, or her Insta posts or in the 3 books she's written,

May 07, 2019
This week's guest has serious grit. - Katie Vanneck-Smith is a media industry veteran and for anyone who's not familiar with that industry, let's just say it's a pretty male dominated and blokey world. Katie has spent more than 20 years in the commer...

April 23, 2019
We're so impressed by how this week's guest has grown her business and her brand from pre side-hustle stage, to become the entrepreneurial 'foodie' success it is today. We think you'll love getting to know Gaby Dalkin, the California based chef,

April 09, 2019
Ann Sherry is a change maker who's notched up so many extraordinary achievements during her decades long and inspiring career to date that it's hard to know where to start. Suffice to say Australian women have a lot to thank her for as one of the many ...