Don't Stop Us Now! Podcast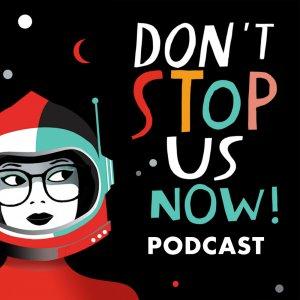 Latest Episodes

March 11, 2020
Our guest this week is Kristina Karlsson, the entrepreneur and founder of global Swedish design and stationery business, kikki.K.   - What's unprecedented about this episode is that just as we were in the process of putting this out to the world,

February 24, 2020
Our guest this week is former military leader and now Quantum Computing pioneer, Mandy Birch. - Born and bred in the USA, Mandy is super qualified . . . she has a Masters degree in Mechanical Engineering from MIT; another Masters in in Military Operat...

February 10, 2020
If you've ever wondered about what we'll all be eating in 10-15 years time then this is the episode for you!  - Our guest is Barcelona-based Cecilia Tham, a Social Technologist and Futurist. She happens to have the coolest day job working for Alpha,

January 28, 2020
Our first 'How To' episode of 2020 brings you super useful tips and advice to set yourself up for an awesome 2020! - To put this episode together, we scoured the latest research and we drew upon the content and expertise we've developed delivering lea...

January 15, 2020
From extreme disadvantage in her childhood, Honeywell Connected Enterprise (HCE) President and CEO, Que Dallara, has been driven all her life to ensure she and her family are far from the memories she has of begging for rice as a child refugee.  -

December 16, 2019
Our guest this week has taken the road less travelled, and pioneered her industry in Hong Kong and China for more than 30 years. We're talking about one of Asia's most celebrated restaurateurs, and a philanthropist as well, Michelle Garnaut AO. -

December 02, 2019
This week's guest has an insatiable passion for learning and the future and she has the career portfolio to prove it! We're talking about international company director, entrepreneur and global philanthropist, Laura Anderson. -

November 19, 2019
This week's guest is a woman who at the age of 92 is still inspiring thousands of women to be the "best they can be!". We're talking about the incredible doyenne of etiquette and deportment, June Dally Watkins. - Miss Dally, as she is known,

November 05, 2019
We get it, no-one likes having a difficult conversation do they?  - Yet, it's a fact of life that we all need to instigate them at different times both at work and at home. And if you want to be successful at work,

October 24, 2019
Our guest this week has been on an incredible journey in the past decade - building an iconic online retail empire to global heights and then having no choice but to close it all down last year. We're talking about Shoes of Prey co-founder, Jodie Fox.