Don't Stop Us Now! Podcast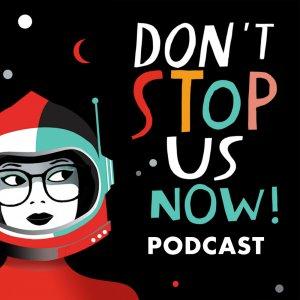 Latest Episodes

December 03, 2019
This week's guest has an insatiable passion for learning and the future and she has the career portfolio to prove it! We're talking about international company director, entrepreneur and global philanthropist, Laura Anderson. -

November 19, 2019
This week's guest is a woman who at the age of 92 is still inspiring thousands of women to be the "best they can be!". We're talking about the incredible doyenne of etiquette and deportment, June Dally Watkins. - Miss Dally, as she is known,

November 05, 2019
We get it, no-one likes having a difficult conversation do they?  - Yet, it's a fact of life that we all need to instigate them at different times both at work and at home. And if you want to be successful at work,

October 24, 2019
Our guest this week has been on an incredible journey in the past decade - building an iconic online retail empire to global heights and then having no choice but to close it all down last year. We're talking about Shoes of Prey co-founder, Jodie Fox.

October 08, 2019
This episode features a super creative thinker and former child prodigy who's on a quest to bring beauty and emotion to all that she creates and builds. We're talking about renown architect, interior designer, fashion designer and artist, Jordy Fu.

September 24, 2019
In this week's episode we meet an entrepreneur and innovator who's been through more than her fair share of challenge and trauma, yet has found a way to forge her own unique path. We're talking about the irrepressible Dr Catherine Ball. - Catherine,

September 11, 2019
In our episode this week we meet an entrepreneur who's been on a 30 year quest to find ways to create environments and networks for people to innovate and solve problems that matter. We're talking about the amazing Founder and CEO of SheEO,

August 27, 2019
Office politics - even the thought of it can make some people cringe!  - We so understand because those two words together conjure up images of mostly bad experiences don't they? Whether it's the nightmare colleague,

August 13, 2019
Our guest this week is the incredibly inspiring Martha Lane Fox, one of the UK's most well known and respected technology leaders and society shapers. - In 1997 Martha was 25 years old when she became co-founder of Lastminute.com,

July 30, 2019
We're excited to share this week's episode featuring someone who's had an extraordinary career at the cutting edge of space exploration. Trudy Kortes is the Chief of the Human Exploration and Space Operations Division at NASA. With her day job,