Courageous Conversations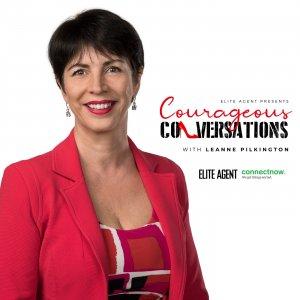 Courageous Conversations: Nathan Casserly talks "shared leadership" and tackling hard times beyond the business world
June 02, 2023
Nathan Casserly can vividly remember the moment his business and life changed in a split second.
After successfully building one of Adelaide's leading agencies, Ouwens Casserly Real Estate, a phone call from his business partner Alex, to tell him Alex's son had been diagnosed with cancer and he needed to step away from the business, shook him to the core.
Just a few months later, his sales director's child was also diagnosed with cancer and Nathan was left to run the business while his colleagues faced even bigger challenges.
In this episode of the Courageous Conversations podcast with Leanne Pilkington, Nathan talks about how he was able to hold his business and his life together and the mental struggles he had to overcome.
He talks about how he changed as a leader and a person during the hard times, how he restructured his business and why going into "Superman mode" isn't always the right thing to do as a leader.
"Being vulnerable is really daunting, and you may see it as a weakness if you can show vulnerability to the others around you. But what then comes from that is the connection and trust. We have a hell of a lot of trust within the organisation, and that builds your key foundation of culture to a level I've never seen or felt before in any organisation" – Nathan Casserly
Some key highlights of this Courageous Conversation, hosted by Leanne Pilkington:
1:30 – Nathan's background and building his award-winning business.

4:22 – Dealing with hard times in business and life.

7:52 – How to step up and take on leadership roles.

10:52 – Why going into "Superman" mode isn't always the best thing for your business.

15:15 – What a shared leadership model looks like.

16:12 – How to hand over responsibility for running your business to someone else.

17:55 – The difficulties of succession planning in business.

19:50 – Why showing vulnerability as a leader can improve your business and culture.

---
Download Episode