Courageous Conversations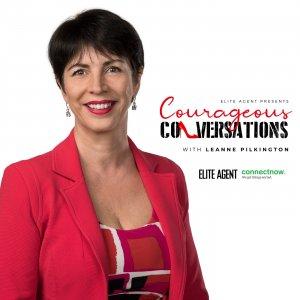 Courageous Conversations: Avi Khan on how to empower your team by fostering leadership from within
April 18, 2023
In a short space of time, Avi Khan has been able to create one of the fastest-growing agencies in Brisbane, driven by his personal leadership style.
Avi puts much of his success down to building the right type of culture – one that empowers his agents to be leaders themselves.
In this episode of the Courageous Conversations podcast with Leanne Pilkington, Avi talks about his journey from lawyer to agent, to now operating five rapidly growing offices in South Brisbane, including 39 agents.
He reveals why he wanted to put his own spin on leadership in the industry and why it's important to build your own leaders as a part of a strong company culture.
He also discusses the value of being community-focused and having a local presence, how to manage and structure a large team and the importance of transparency in workplace culture.
"We are not just there to list and sell real estate. We are actually there to foster better communities. We're actually there to connect better communities. We're actually there to help people as well. I think the beautiful thing about real estate is you can make as much money as you can, but we forget along the way that it's someone else's journey. We should be humble and grateful to be a part of it." – Avi Khan
Some key highlights of this Courageous Conversation, hosted by Leanne Pilkington:
2:38 – Why real estate is harder than it looks.
4:20 – How Avi survived without getting a listing in his first 12 months.
7:08 – How Avi learnt what not to do as a leader through his early experiences.
8:40 – Why you need to create other leaders, build a strong culture and foster a team approach in your business.
11:14 – How Avi uses peer-to-peer learning to help improve his agency.
13:13 – The value of face-to-face interactions and a local presence in an era of technology.
15:16 – How Avi helps build his local community through sponsorships.
16:31 – The way Avi is able to structure his business with 39 agents and the importance of transparency.
21:27 – How Avi was able to manage the decision to stop selling himself and focus on the business.
22:00 – Why agents were so keen to join Avi when he was just getting started.
24:00 – How social media helped launched Avi's business.
---
Download Episode