Courageous Conversations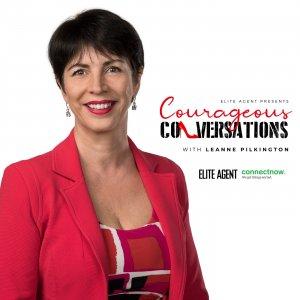 Courageous Conversations: Kate Smith on dealing with setbacks and overcoming rejection
February 28, 2023
Much like a professional athlete, real estate is a high-performance activity that rewards the people who are prepared to work harder and never give up.
Performing at a high level is something Harcourts Smith owner, Kate Smith knows well after spending her teenage years playing elite junior basketball at the Australian Institute of Sport.
In this episode of the Courageous Conversations podcast with Leanne Pilkington, Kate talks about how she overcame the heartbreak of being cut from the AIS for "not being good enough" and why that helped build resilience in her career in real estate.
They also talk about the importance of getting out of your comfort zone if you want to be an elite performer and why being able to handle rejection and turning "no" into "next opportunity" is something you always need to work on.
Kate also discusses how she is able to manage being a working mother with two young children and how to make real estate and family life work.
"You are going to be told, 'Sorry, you're not good enough' or 'No, we've gone with someone else', or whatever it might be. But you need to turn it into a positive and use that information to make yourself better. It's a continuous game of personal growth." – Kate Smith
Some key highlights of this Courageous Conversation, hosted by Leanne Pilkington:
2:41 – Kate's early life as an elite-level basketball player and training with the Australian Institute of Sport.
4:35 – Dealing with the heartbreak of not making the cut and being told she wasn't good enough.
6:05 – The similarities between sport and real estate and what it takes to be an elite performer in any field.
7:03 – How to get over the constant rejection in real estate and how to turn momentum into opportunities.
6:28 – How to have hard conversations with vendors and why it's vital to tell then "what they need to hear".
9:00 – The best way to coach your team to get the best out of them.
10:03 – Getting out of your comfort zone and speaking at industry events to help further your career.
11:20 – How to manage being a working mother with young children while trying to maintain your career in real estate.
16:02 – Why Kate moved to Harcourts and how it helped her build a team of 20.
16:44 – The challenges of owning a business compared to listing and selling and how to overcome them.
17:21 – Why you don't want to build a team of people that are exactly like you.
18:41 – How to set your goals effectively so you will be able to achieve them.
19:44 – Why Kate thinks you need to be a great negotiator in the current market and how putting in face-to-face time with vendors will need to increase.
---
Download Episode