Courageous Conversations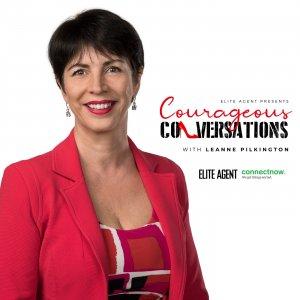 Courageous Conversations: Renee Reynolds on building a property management business that puts the client first
February 14, 2023
Fifteen years ago, Renee Reynolds was told that a standalone property management business would never work.
Now, after building her rent roll to more than 1300 properties as director of Release Property Management in Geelong, Renee has proven that not only can the model work, it has a lot of advantages.
In this episode of the Courageous Conversations podcast with Leanne Pilkington, Renee talks about why she was quick to start her own property management business and how she grew from zero to more than 1300 properties and three offices.
She also takes a deep dive into her steadfast focus on customer service and how she's built a team that also lives and breathes this ethos.
Renee also shares with Leanne why she's now starting to add sales to her business and why legislative changes are pushing many landlords to sell.
"What hasn't changed from the day we opened the doors 15 years ago is building relationships with your clients." – Renee Reynolds
Some key highlights of this Courageous Conversation, hosted by Leanne Pilkington:
1:16 – Why Renee started her own property management business and why she eventually added sales into the mix.
4:00 – Why people told her not to go into property management.
5:05 – The reason Renee chose to buy a rent roll after years of building her own.
6:07 – How to make sure your staff have the same customer service values you do.
7:17 – The most effective way to train new staff so they can fit into your team culture and work in multiple roles across the business.
9:10 – How Renee manages staff holiday periods and how to create work/life balance for your team.
10:44 – The new legislation causing property investors to sell and what type of buyers are purchasing the homes.
12:03 – How Renee launched her business and the way she was able to grow her client base.
13:45 – How Renee implements change in her business and gets her team onboard.
15:00 – What the future holds for property management and how Renee encourages in-person contact with her clients.
17:05 – The most effective way to keep your clients up-to-date with current issues in the market by running 'investor nights'.
18:56 – The best and worst advice Renee has received.
Links mentioned
---
Download Episode