Courageous Conversations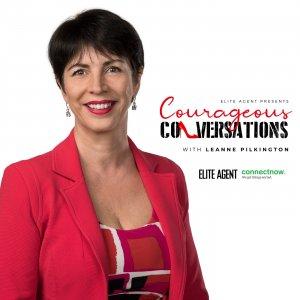 Courageous Conversations: Laura O'Reilly reveals how she is helping people with disabilities have a fighting chance at a normal life
September 01, 2023
She saw firsthand when her brother Shane, who was born with Cerebral Palsy, left school there was no real path for him into adult life.
Tragically, Shane died a few years after leaving school, and Laura established the not-for-profit, Fighting Chance, to help build social businesses to ensure other people with disabilities don't have to face the battles her brother did.
In this episode of the Courageous Conversations podcast with Leanne Pilkington, Laura talks about why she feels people need opportunity, not charity, so they can contribute to the world.
She also reveals how she has developed as a leader of a large organisation, which she founded at a young age, how to learn on the job and how to survive moments of catastrophe in any business.
"I always embrace the really difficult moments and there are lots of them because they are the opportunities for improvement and refinement and clarifying what we're doing, how we're doing it, and getting better at my craft." – Laura O'Reilly.
Some key highlights of this Courageous Conversation, hosted by Leanne Pilkington:
4:03 – Igniting social enterprises nationwide: Transforming lives of those with disabilities through employment.

6:08 – The crucial role of skills training for the disabled: A must-hear for employers.

7:33 – Partnering with industry giants: The inspirational growth of fighting change and why Laura launched Hire Up.

11:19 – The NDIS revolution: How it's reshaping opportunities for people with disabilities.

14:13 – Youthful leadership: Proven strategies for running successful businesses at a young age.

16:39 – Navigating crisis: Resilient approaches to get your business back on track.

18:05 – The power of transparent learning: Upgrade your skill set while aligning with your purpose.

20:25 – Crafting the optimal learning ecosystem: The secret to team growth and productivity

---
Download Episode