Courageous Conversations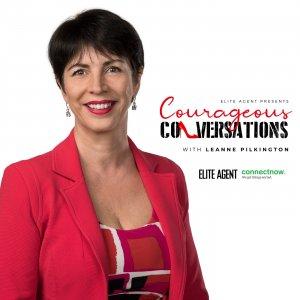 Courageous Conversations: Romany Brooks on how to handle people saying no and the importance of community
July 14, 2023
In this episode of the Courageous Conversations podcast with Leanne Pilkington, Romany talks about her passion for her community and how she is focused on raising money for a range of different causes including being on the fundraising committee of Australia's longest running HIV charity the Bobby Goldsmith Foundation.
She also reveals how she manages her expectations and mindset when she hears the word "no" in her business, and why you need to develop a thick skin to succeed in the high-risk/high-reward world of real estate.
Romany explains why there's always a solution for every hurdle in a real estate deal, the importance of building a strong office culture and why you can't play the comparison game.
"The only thing I think that is worth pursuing is how you are comfortable with the way you do business yourself. You can only compare yourself to your last performance. Stop comparing yourself to anyone else." – Romany Brooks
Some key highlights of this Courageous Conversation, hosted by Leanne Pilkington:
1:52 – Romany's background in real estate and why you need to find your perfect environment.

3:01 – Why working under a great leader can make you a better agent.

3:31 – Raising money for community causes and how your auction skills can help.

9:56 – Why Romany says some personalities have trouble fitting in and what you can do to find your place in the world.

11:06 – Why trying to help people in all areas of her life led her to being named Sydney Local Woman of the Year.

13:27 – Why you need to be able to handle someone saying "no" to achieve success in any area of life.

15:05 – Romany's clever marketing tactics during Covid times and why they could still help now.

17:18 – Why you shouldn't play the comparison game if you want to achieve big things.

19:14 – The importance of an office culture that allows you to manage your own state.

---
Download Episode