Velocity of Content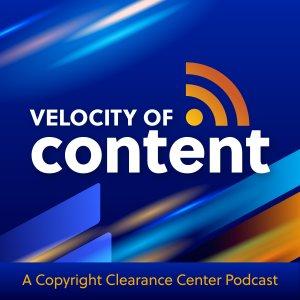 Latest Episodes

July 25, 2021
As Open Access and Open Science policies have taken hold, university librarians flung open the doors to their institutions. But in March 2020, those same libraries were forced to shut as the COVID-19

July 18, 2021
Comics have long played an important role in the reading habits of many children and adults around the world, but in North America, appreciation of the format –including graphic novels and manga – has

July 16, 2021
Graphic novels made up almost 20% of adult fiction unit sales in the first half of 2021, compared to 9.3% last year. Unit sales soared 178.5% in the first six month of this year. With 16.2 million cop

July 11, 2021
"Core values are the basis for everything – for your culture, your business processes, how you treat your people, how you treat your customers," says Sabrina Horn. "All of that radiates out through yo

July 09, 2021
"While the supply chain has held up well— consider the strong sales we've seen over the past year —challenges now loom," says PW's Andrew Albanese.

July 04, 2021
In the midst of political and social upheaval, where do you turn to gain understanding and to foster empathy? For many Americans, the answers are found in books; reading is a gateway to move beyond mi

June 27, 2021
The surprises from COVID-19 aren't always unwelcome ones. The arrival of effective vaccines is one such miracle. The good health of the publishing industry is yet another – at least for now.

June 25, 2021
Book buyers continue to seek out books that help them understand and address issues of racism.

June 20, 2021
A voyage around a page takes us on an engrossing metaphorical journey from the Sea of Syndication to the Lake of Knowledge, passing Woods of Truth and Scholarly Fields – forever, of course.