B2B Lead Gen Podcast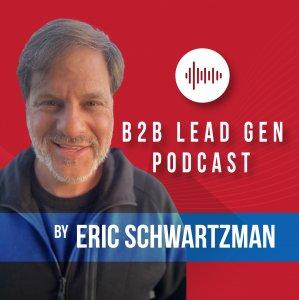 Latest Episodes

July 07, 2022
In this episode of the B2B Lead Gen Podcast, search optimization expert Juliette van Rooyen talks about how to get internal linking right, how to deal with keyword cannibalization, the easiest way to crawl one's own site,

June 15, 2022
In this episode. of the B2B Lead Gen Podcast, digital marketer and strategist Nick Wilsdon talks about the enterprise SEO strategies of major brands, working with SEO consultants, why big changes at G

May 19, 2022
In this episode we go deep into using Google Analytics for B2B digital revenue attribution with Steffen Hedebrandt, who is the chief revenue officer and cofounder at Dreamdata.io in Copenhagen, Denmar

April 13, 2022
Michael Terpin, an American investor, entrepreneur and former public relations executive. In 2013 he co-founded BitAngels, an investment network for blockchain technology startups and the first angel

March 17, 2022
Smartbugs Chief Revenue Officer and RevOps analyst Jen Spencer talks about her recent benchmarking report on the convergence of inbound marketing and revenue operations (RevOps): a survey of 200-plus

February 09, 2022
In this episode, writer, investor and entrepreneur Chris Yeh talks about Blitzscaling: The Lightning Fast Path to Building Massively Valuable Companies, a book he wrote with Linkedin CEO Reid Hoffman, which explains how companies like Amazon, AirBNB,

January 20, 2022
In this episode of the B2B Lead Gen Podcast,Scott Brinker, vice president of platform ecosystem atHubSpotand editor atChief MarTechtalks about stack business value with marketing technology. B

December 06, 2021
In this podcast, I spoke with SoundCommerce CEO Eric Best, a 20-year commerce vet who's worked at Amazon and Liberty Interactive. He was CSO at CommerceHub through its IPO, CEO and founder at Merc

April 22, 2021
With 30% marketshare, WordPress is the world's most popular content management system (CMS) on the Internet today. Unsurprisingly, plugins designed to work with it, especially those that use the freemium business model to convert free to premium subscr...

March 31, 2021
In this episode Katie (Ekaette) Kern, COO of Media Frenzy Global, a PR and marketing agency with offices in Atlanta, and London, discuss Clubhouse, the Meghan Markle Oprah Winfrey interview, the #BlackWomenatWork hashtag, Billie Holiday,