World of Boating Radio Show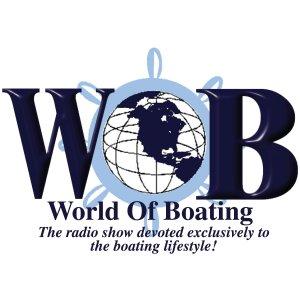 Latest Episodes

June 04, 2022
This week the WOB crew discuss the first storm of hurricane season and what boaters need to do to be properly prepared. Plus are fuel prices keeping boaters off the water?

May 28, 2022
This week the WOB crew celebrate the official kick off of boating season. Plus would you say no to a free boat?

May 21, 2022
This week the WOB crew talk about the 100 year anniversary of water skiing. Plus it's the kick off national safe boating week!

May 14, 2022
This week the WOB crew discuss Coast Guard registration and the bogus letter that might be costing some uniformed boaters. Plus another story of survival at sea and what you can learn from it.

May 07, 2022
This week Captain Rusty checks in as he prepares to join a boating flotilla to Grand Bahama Island. Plus as the government allocates 800 million dollars for marine related projects, what do boaters re

April 30, 2022
This week Mike the Mariner reports live from a Hatteras boating adventure in Sarasota. Plus unique water hazards keep popping up in a popular Florida lake.

April 23, 2022
This week the WOB crew look back at all the boating brands that have come and gone. Plus retirement at sea might be more economical than you think!

April 16, 2022
This week the WOB crew cope with another round of Covid. Plus Captain Rusty's first time out on the water for the boating season.

April 09, 2022
This week Greg-Your 1st Mate shares his experience onboard a new Virgin Voyages cruise ship called the Scarlett Lady. Plus boating manufactures are getting ready to switch out models for 2023.

April 02, 2022
This week a vessel owned by Mike The Mariner gets slammed into by some drunk boaters. Plus an author who spent 3 years on a 12 foot boat!