#WeGotGoals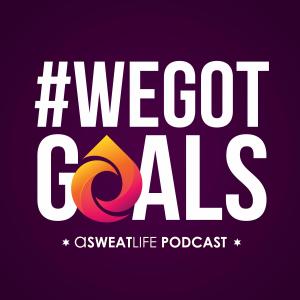 Shred415's Co-Founders Bonnie Micheli and Tracy Roemer Talk Growing Together
July 27, 2022
[This episode is supported by Athletic Greens. You can get an AG1 subscription and a free gift: a FREE 1 year supply of immune-supporting Vitamin D and 5 free travel packs with your first purchase at athleticgreens.com/asweatlife.]
I've come to know Bonnie Micheli and Tracy Roemer, co-founders of Shred415, as a package deal. I can't actually remember seeing one without the other. I've also learned to look at them as eager collaborators and mentors, but I'm willing to bet a lot of people in fitness do.
On this episode you'll hear a lot about the workout at Shred415, and the business of running a franchise. But what's more inferred is the most important part about this pair - their relationship. It's clear that their bond keeps them connected as leaders, allowing them someone to celebrate with when things are good, and someone to lean on when things aren't going as planned. Read: a global pandemic.
This duo explain their origin story on this week's episode of #WeGotGoals, but more than that, you'll hear them get real about what it takes to open a studio and scale it. You'll hear about the long days, and the hard parts - like those first few months when they were hoping they were onto something at Shred415, but didn't have the sign-ups to prove it yet. You'll also hear about the good times, like seeing their big dreams come to life, and taking their concept from corporate-only to franchising. 
They're masters of bootstrapping, which they talk about, going from one studio to a second when they literally could not support another human in class. In the early days, when there was no room for a marketing budget, they figured it out, leveraged the power of Facebook before we all met and learned to loathe *the algorithm* and, even more importantly, they learned to leverage the power of moms who loved the kids room and were building friendships in the walls of Shred415. 
They've also created, by the way, a workout people love that gets them moving on treadmills and lifting weights on benches. As a workout, it has introduced so many people to strength training who maybe wouldn't have lifted heavy weights otherwise.
You'll hear on the episode from aSweatLife ambassador Cathy Mekondo who shares why she's taken more than 100 Shred415 classes.
And before recording this episode, I looked back through the archives for this piece of history on aSweatLife, but I took my very first Shred415 class early in the days of aSweatLife, September 11, 2012, to be exact. And I wrote about it at-length, I'm pretty sure I described every single movement we did in that class.
Here are a few of my favorite takeaways:
"Maybe it was me, but the last set on the benches had me counting the minutes until the end as the instructor threw in burpees." I can read my sneer through the lines, listener. I had just met burpees before I took shred, and I did not like them.
"The instructor had to work as hard as the class to keep it going, keeping time and calling out the changing exercises. He also had to adjust the TRX straps between sets. It didn't look easy, but he did a great job." And that's true - instructors in SHRED415 classes have to do a lot of work to manage their classes, especially when they're full. 
Remember, you can get 2 free SHRED415 classes to use in a week in Chicagoland, Indianapolis and St Louis. Just email info@shred415.com to redeem.


Resources:
---
Download Episode