True Wealth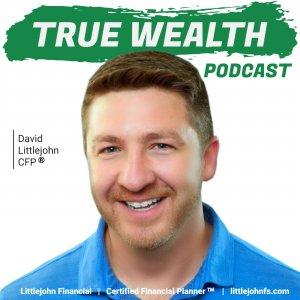 Latest Episodes

August 03, 2022
David and Matt have a conversation on unintentional bias in our financial decisions. We can be deceived by our preconceived notions. Learn how to improve your investment decisions by tuning in.

July 27, 2022
Should I open a retirement account or invest in real estate? How can I make the best possible use of the money I earn? This week David and Matt discuss the Federal Reserve and inflation while also bre

July 25, 2022
If a company is growing, sales are improving, and margins are healthy, yet the stock price took a tumble, where is the disconnect? David talks about his favorite store, and we get a lesson as to why v

July 13, 2022
Are we already in a recession? We look at 10 indicators and wonder how much lower we can go? How long it will persist if it does as the economy experiences waves of expansion, peak, contraction, and t

July 06, 2022
Is the market expected to rise or fall from here? Although we can't be certain, David starts a heated argument to demonstrate how each side can support their position. Is capitulation on the horizon?

June 30, 2022
How much lower can the market go? David and Matt discuss how retail investors fleeing the market can provide opportunities for institutional investors to drive prices higher and make a profit. Today w

June 22, 2022
Matt and Justin talk about the different stages of retirement. Even if you are years away from retirement, this is a show you won't want to miss. Find out ways you can better optimize your spending an

June 15, 2022
Inflation is the talk of the town. With all the buzz around rising costs, the question becomes, "How is inflation really measured?" Tune in as David and Matt break it down.

June 08, 2022
With purposeful planning, we may use our vision to develop long-term goals that are more likely to be met. Listen in as David and Matt discuss how to develop SMART goals that can enhance your financia

June 02, 2022
As you explore the internet and the computer system learns more about you, it may be possible for you to receive biased information. Today, David and Matt discuss how we should exercise caution when c