Top Advisor Marketing Podcast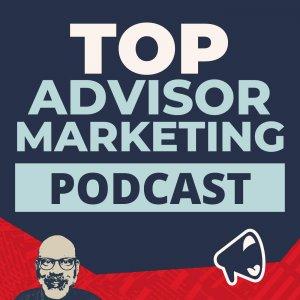 Advisors, Step Away From the Hard Sell With Samantha Russell and Susan Theder (Ep. 415)
May 16, 2023
As much as some advisors hate to hear it, the age of the hard sell is over.
Your prospects want a relationship, not a sales pitch. It's time to change how you present yourself online.
In this episode, Matt Halloran talks to Samantha Russell and Susan Theder from FMG Suite about how to stop coming off as salesy and start showing up as a genuine person your prospects want to know. Samantha and Susan also predict the role that ChatGPT will play in content marketing for most advisors. 
Samantha and Susan discuss:
How to eliminate your bravado online and start speaking in your clients' language

How to get clients to recognize their need for your services, without having to directly sell to them

ChatGPT prompts to help you write fun posts that connect to business (and without sound self-serving)

Why the "three-piece suit" approach (being super professional) doesn't work when sharing content — and how to find your digital comfort zone

And more

Resources: 
Connect with FMG Suite:
Connect with Samantha Russell:
Connect with Susan Theder:
Connect with ProudMouth:
About Samantha Russell:
Samantha Russell helps financial advisors create digital marketing strategies that produce exponential growth through channels such as content marketing, SEO, website development, social media, and video.
A prolific speaker and content contributor, over 10,000 financial professionals have heard Samantha speak at industry conferences and even more have read her educational content in the pages of well-known industry publications.
Samantha is Investment News 40 Under 40 award winner, a ThinkAdvisor Luminary, and a WealthManagement.com "10 to Watch".
She was part of the original five-person team that launched Twenty Over Ten and now serves as Chief Evangelist at FMG. There is nothing Samantha finds more inspiring than being able to empower advisors to market themselves effectively, and she gets a thrill from each message received from those financial advisors who are enjoying returns on their marketing investments.
About Susan Theder:
Susan Theder is the Chief Marketing and Experience Officer at FMG Suite and a member of the company's Senior Leadership Team. Susan places an emphasis on the importance of customer-focused strategies that leverage data and technology to deliver personalized and customized experiences that WOW. 
She has a passion for helping financial professionals grow and market their businesses and is an active supporter of women and diversity initiatives. She was named CMO of the year by WealthManagement.com in 2019 and a Women to Watch by Investment News in 2019. 
Susan currently serves on the Board of Directors for SMARSH and ComplySci, both leading SaaS/RegTech companies serving the financial services industry. 
---
Download Episode