Top Advisor Marketing Podcast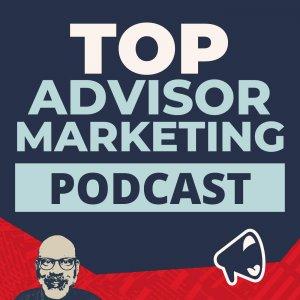 Top Predictions for Future Trends in Financial Services With Tim Welsh (Ep. 413 )
May 02, 2023
Imagine you could hop into a time machine and go forward 5-10 years in the financial services industry. What do you think you'd see?
In this episode, Tim Welsh, CEO and founder of Nexus Strategy, joins Matt Halloran to predict major upcoming marketing and tech trends for advisors to pay attention to. Where is the industry headed? Are advisors becoming content creators? Will all of advisors' different tools and software ever truly  "talk to each other with integration"? Tim's best predictions await you in this conversation. 
Tim discusses:
How decentralization will evolve in the next five years

Whether "becoming content creators" is inevitable for advisors

How to demonstrate your expertise, even if content creation feels intimidating

How significant amounts of private equity and venture capital coming into financial services might impact the industry in 10 years

The advantages of being a free agent in the industry

And more

Resources: 
Connect With Tim Welsh:
Connect With ProudMouth:
About Our Guest:
Timothy D. Welsh, CFP® is President, CEO and founder of Nexus Strategy, LLC, a leading consulting firm to the wealth management industry. Nexus Strategy's primary focus is working with leading organizations to best market their products, services and technology to the independent advisor community. 
Tim is frequently quoted in the wealth management media on a wide range of business management and industry topics. He is the author of a number of industry white papers, a regular columnist for RIABiz, ThinkAdvisor, and wealthmanagement.com, and is a frequent speaker at industry conferences and events. 
---
Download Episode