Tinder Tales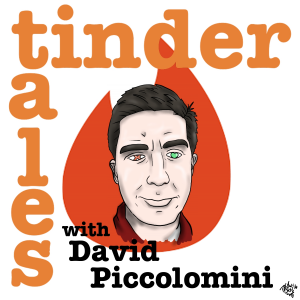 David Piccolomini "Guest Host Brandon T Gorin" Episode 101
February 01, 2018
Oh Hey Tinder Tales is on Patreon Now! Consider Donating at https://www.patreon.com/TinderTalesPod
Welcome to Tinder Tales! This is my podcast about the best and worst of Online Dating.  This episode is a slightly different one as I have my best friend in comedy Brandon T. Gorin interview me about the past 100 episodes. I've known Brandon for a super long time and things definitely get weird.
HOLY SHIT! We are on iTunes! Please Rate and Subscribe!
Follow Brandon on Instagram at @BrandonGorin and check out his Podcast that we do together Talking Chopped!
Follow me at @Piccolomeany and I also run a show called Ambush Comedy every Tuesday at Two Boots Williamsburg 8-8:30pm Everyone gets a free beer, 8:30 pm we start an awesome comedy show. Recently featured in Time Out NYC
Tinder Tales Live is Friday February 16th at 7:30pm! Preorder tickets for $7!
AND WE'RE BACK AT TINDER TALES LIVE GRINDR EDITION AT CLUB CUMMING FEBRUARY 8TH AT 10PM
I have a new podcast called Talking Chopped! A podcast all about the TV Show Chopped. It's hilarious I love it.
---
Download Episode