The Senior Alliance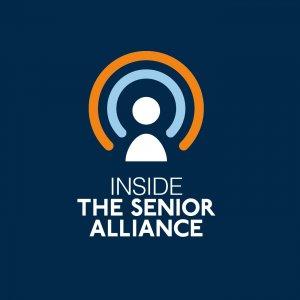 Latest Episodes

June 15, 2022
Jason Maciejewski, CEO of The Senior Alliance, the area agency on aging serving Western and Southern Wayne County sits down with Congresswoman Rashida Tlaib, who represents Michigan's 13th congression

March 23, 2022
In this first episode of the second season of "Inside the Senior Alliance," host Jason Maciejewski talks with Kayla Jakel from the Alzheimer's Association of Michigan and Arnie Beresh who is living wi

February 18, 2022
In episode 16 of "Inside the Senior Alliance," host Jason Maciejewski interviews Jodi Burke, Program Specialist II with the National Kidney Foundation of Michigan (NKFM). Jason and Jodi discuss not on

January 19, 2022
At The Senior Alliance, advocacy is an important part of the work that we do. In episode 15 of Inside the Senior Alliance, Jason Maciejewski sits down with Emma Olson, the Advocacy and Planning Specia

December 10, 2021
In episode 14 of Inside the Senior Alliance, Jason Maciejewski talks with State Representative Laurie Pohutsky about what she and her colleagues in Lansing are doing to ensure protections, resources,

November 03, 2021
Host Jason Maciejewski sits down with Lori Zimmerman, Manager of the Senior Alliance Information and Assistance Program, and Theresa Coleman, Senior Alliance team member, to talk about the Friendly Re

September 17, 2021
In episode 12 of "Inside the Senior Alliance," Jason Maciejewski talks to Dr. Clare Luz, a gerontologist from Michigan State University and Director of Impart Alliance, to discuss the work of direct c

August 03, 2021
In this episode, Jason Maciejewski, Deputy Executive Director of The Senior Alliance, welcomes three guests. The Department Director of Senior Services of Wayne County, Lisa Whitmore Davis, Division D

July 07, 2021
Host Jason Maciejewski is joined in Episode 10 of "Inside the Senior Alliance" by Dr. Denise Brothers, who is Chair of the Senior Alliance's Advisory Council and a professor at Madonna University. Dr.

June 24, 2021
In episode 9, host Jason Maciejewski is joined by Susan Rowe from the Michigan Senior Advocates Council and David LaLumia, the executive director of the Area Agencies on Aging Association, to discuss