The Race to Value Podcast
Ep 176 – Shifting Paradigms: Navigating The Future of Value-Based Care, with Dr. Caroline Goldzweig, Cynthia Deculus, and Dr. Michael Consuelos
August 01, 2023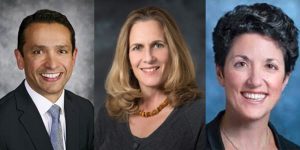 In this thought-provoking episode, we delve into the transformative world of value-based care, exploring the multifaceted facets that are reshaping the future of healthcare. Join us as we dissect the vital components of this paradigm shift, from tackling social determinants of health and championing health equity, to seamlessly integrating behavioral health into patient care.  Discover how population health enablement is empowering communities, while bundled payments revolutionize the healthcare landscape. We'll also uncover the incredible role of technology and patient outreach, enabling unprecedented levels of personalized care and accessibility. And lastly, we navigate the critical importance of physician engagement, a driving force behind the success of value-based care. As we peer into the crystal ball, we envision the future role of hospitals, embracing change and embracing innovation.
Joining us in the discussion this week are three important thought leaders in value-based care transformation:
Dr. Caroline Goldzweig, Chief Medical Officer – Cedars-Sinai Medical Care Foundation

Cynthia Deculus, Vice President and Chief Population Health Officer, Cedars-Sinai

Dr. Michael Conseulos, Vice President Strategy, Growth, and Innovation Consulting at OptumInsight

Get ready to be inspired as we illuminate the path toward a healthier, fairer, and more compassionate healthcare system. The journey starts now!
This week's episode is brought to you by Edifecs – an EMR-agnostic, interoperable, and AI-enabled technology helps providers unify and utilize data for a more complete digital portrait of patient populations. The result: better clinical, financial, and compliance outcomes.  To learn how Edifecs' applications can enhance prospective risk adjustment and value-based contract performance, visit edifecs.com today.

---
Download Episode