The Property Renovation Podcast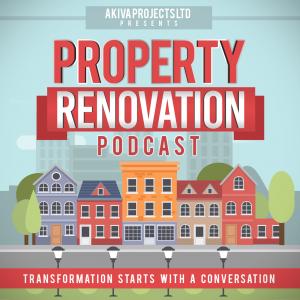 88 - Dom & Jess Part 2
March 03, 2019
James speaks to Dom and Jess on Part 2 of a 3 part series. We discuss the work they have done to their property and what they have learnt along the way.
You can go back and listen to the first episode number 77 where we discuss their experience in getting on the property ladder and the difficulty they had with their boundary line.

From replace the stairs, to replacing entire floors and subfloors, and fitting french doors too, they truly have been through a lot.

If you want to be part of the podcast on a three part series just get in touch with us via instagram or email podcast@propertyrenovationpodcast.com.

Enjoy the episode.
We love pumping out new content every week to help homeowners across the world discovery more about the industry which in turn save them money and time on their project and we love speaking up for the great trades and professional in the industry that do a great job every day!
If you would like to support what we are doing, buy us a coffee :)
Are you are homeowner who wants to feature on the podcast?
Book a discovery call with us
Free Stuff
Get your free download to achieving the perfect renovation
Book a consultation to discuss your project
Watch us
Advertise with us