The Property Renovation Podcast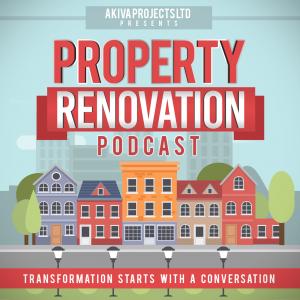 84 - Interior Design for Children, with Toks Aruoture
February 03, 2019
I don't know about you but I have two young kids a boy and a girl and my partner and I are always talking about changing their room around and given it a new look.
But how do you know what's the right balance, the right colour, whilst trying to make it look cute and not over loaded.
Well a few weeks ago I came across and event on event Brite, which is a really cool app if you want to find different workshops and course on DIY and improvement but anything for that matter.
Anyway this evening workshop was about interior design for nursery's and children's rooms.
Then I started looking into the woman behind it and had a lovely conversation with her.
Toks who you will hear from in a minute truly loves working with children's rooms and interiors and also has a shop in Chelsea on the kings Road that sells some beautiful pieces for your children's room.
You may have seen the amazing castle bed we have on our Instagram.
So enough of me, enjoy my conversation with Toks aruoture.

Check out our website for more great stuff! 

www.propertyrenovationpodcast.com
We love pumping out new content every week to help homeowners across the world discovery more about the industry which in turn save them money and time on their project and we love speaking up for the great trades and professional in the industry that do a great job every day!
If you would like to support what we are doing, buy us a coffee :)
Are you are homeowner who wants to feature on the podcast?
Book a discovery call with us
Free Stuff
Get your free download to achieving the perfect renovation
Book a consultation to discuss your project
Watch us
Advertise with us