The Exclusive Career Coach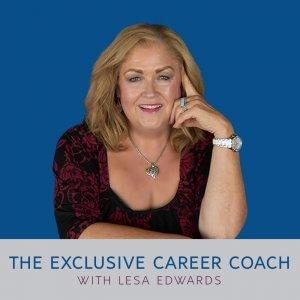 208: Use Your V.O.I.C.E. to Become a Fearless Speaker (with Carissa Karner)
January 06, 2022
Be sure to sign up for the special webinar in January – The 3 Things You Haven't Thought About For Your Next Job Search.
Here's what you'll gain from this webinar:
ü Clarity around EXACTLY what you are looking for in an employer – after all, how will you know if you have found IT if you don't even know what IT is?
ü Awareness of your values and skills, so you can make sure an employer meshes with your values and appreciates your skills
ü Deep understanding of your professional purpose – what contributions you are uniquely designed to make 
This is a hands-on workshop (no passive lurkers allowed!) where you'll be asked to think about what you really want in your next job. You'll do solo work, followed by small group time to share your insights and intentions with other participants.
Guaranteed: You'll know yourself infinitely better at the end of this hour. You'll know what you want and why you want it. You'll have focus and direction.
Here's the link: https://3thingswebinar.carrd.co/
Carissa and I speak about how to become a fearless speaker. This topic is especially important for women, and Carissa tells us why.
Carissa talks specifically about becoming a fearless speaker during job interviews, when giving presentations, and when you are having one-on-one, difficult conversations. She explains how to bring down our anxiety, boost our self-confidence, and be extremely prepared for these conversations.
Carissa Karner is a certified World Class Speaking Coach, a certified Clini-Coach, a licensed psychotherapist, a TEDx presenter, and an actress. She pulls together an arsenal of tools to help you get confident about speaking in public, knowing what to say and how to say it effectively, and how to create mic-dropping speeches that can change lives.
To learn the framework Carissa outlines in this episode, download her FREE Use Your V.O.I.C.E. workbook here:
https://fearlessspeak.com/useyourvoice
You can find Carissa at: fearlessspeak.com
Instagram: @carissakarner
LinkedIn: linkedin.com/in/carissakarner
Facebook: facebook.com/groups/fearlessspeakers
Are you in the wrong job that chips away at you every day? The CareerSpring document and coaching program will help you find a job that uses your zone of genius, recognizes your value, and pays you what you're worth.
If you're ready to take your job search to the next level by working with a highly experienced professional with a track record of client success, schedule a complimentary consult to learn more: 
https://calendly.com/lesaedwards/zoom-meetings2
---
Download Episode