Swinging Flamingos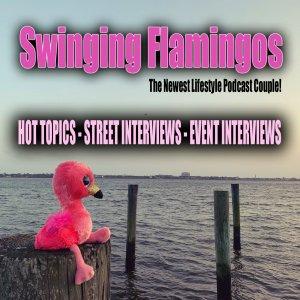 Latest Episodes

March 15, 2021
What's this……2 episodes in the same month ? Anyway, fresh off the heels of our trip to Miami to meet with George and Ann of the The Group/ Just for Dinner. (https://the-group.co/) we decide to hit you guys with a fun bonus episode.

March 08, 2021
Welcome to Episode 19. We announce to the world that we are DONE……done with all the snark and hatred that we encounter. We start the episode talking about some killer parties we hit, and then catch you up on our dating life with playmates. Now….

February 01, 2021
In Episode 18 "Two Flamingos and a Comedian Walk into a Bar" we have the pleasure of chatting with superstar comedian Rob Little http://www.roblitle.com. What else can we say about this episode, other then its our funniest one to date.

January 06, 2021
In Episode 17 – "Do more rules mean less fun?", we finally break down what our rules are in the lifestyle, as well as our personal boundaries. You thought we were done podcasting, but here we are with another crazy episode.

November 16, 2020
In Episode 16 "Year One" Issues, we discuss some problems we have seen pop up over the last few months. "Year One" issues are something we feel most couples should have worked thru and discussed VERY early in their introduction into swinging.

October 26, 2020
In Episode 15, "Single Male Roles in the Lifestyle" we field a listeners question, and play off of some real life scenarios we have encountered recently . We start off by about some exciting new happening with our sponsor http://www.altplayground.

October 05, 2020
In Episode 14 "My Safewrod is Pineapple Suffaluffagus" we recap some of the swinger adventures and dates we have been on in the last month. We actually had a topic in mind, but realized we had way to much travel to talk about.

September 19, 2020
In Episode 13, "How does the media portray our lifestyle, and how do you portray our lifestyle?"  , We have some candid discussions about how the media falsely represents swingers in the media. We also discuss the times that the media does right by swi...

September 01, 2020
In Episode 12 " Body image and Body Shaming in the lifestyle" we discuss our real life experiences that we have seen and been involved in during our adventures. We talk about some recent dates we have been on at http://www.gasmonkeybarngrill.

August 17, 2020
In Episode 11, we discuss the "Expectancy" of Bi-women in the lifestyle. We start off with some banter on Mrs Flamingos recent "bi attractions" and get a little insight as to the types of women she seems to be drawn to.