Super Cast Bros.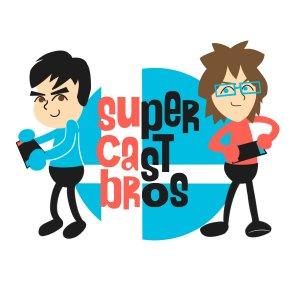 Latest Episodes

December 21, 2021
With Ultimate finally over, Zantok and Jonno begin reflecting on the future of Smash. What will Classic Mode look like in the next Smash? What about past Classic Mode experiences might inform it?

December 16, 2021
Season 3 of Super Cast Bros. continues with a Hideki Kamiya-themed Smash or Dash special! Wonder-Red and Viewtiful Joe trade hands, as do Jill Valentine and Dante. Eric (Flamezone) returns to offer his opinion on these epic match-ups, and Jonno and Zantok

November 20, 2021
In their latest Smashtopia collab, Zantok and Jonno dive deep into moveset makin' for Kid Icarus' Goddess of Darkness herself, Medusa!

November 14, 2021
SORA IS FINALLY HERE! Zantok and Jonno relish in Sora's surprise reveal. Now that Ultimate's end has come, they talk about the game and its roster at large. Kingdom Hearts, bay-bee!

October 23, 2021
Super Cast Bros.' first Season 3 cycle wraps up with a Smash or Dash. What initially look like oddball matchups between Geno, Marx, Spyro, and Amaterasu turn out to actually have a storied past between our hosts! Dive in to this episode to unlock that mys

October 09, 2021
It's the first Smashtopia of the season, and Zantok and Jonno dive into the doghouse with an unsuspecting newcomer: Poochy!

September 25, 2021
It's Season 3 of Super Cast Bros.! Jonno and Zantok are once again joined by their pal, Trevor (Turbotaxer). Together, they talk about everyone's space furries, Star Fox, and where the series should be taken next.

September 11, 2021
The time has come. Year Two of Super Cast Bros. is complete with an all-star Tournament of Champions between each of the season's Smash or Dash winners. Duking it out are Great Tiger, Funky Kong, Metal Slug, Chell, Lusamine, Lich King, Slippy Toad, Master

August 28, 2021
For our next Smashtopia, it's... Aang and Steven Universe!? Zantok and Jonno dive into the respective worlds of Avatar: The Last Airbender and Steven Universe for their end-of-season solo submissions. This time, the theme is 4th Party Characters!

August 14, 2021
Zantok and Jonno play their first-ever Super Cast Bros. Roster Game! Sorting between newcomers for companies like Blizzard, Ubisoft, and even Sony, they talk about a swath of ideas for potential Smash characters whilst denoting their favorites.