Super Cast Bros.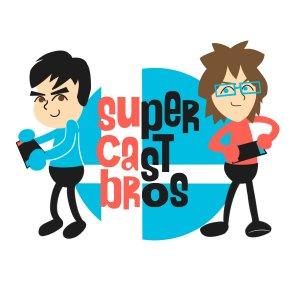 Latest Episodes

September 11, 2021
The time has come. Year Two of Super Cast Bros. is complete with an all-star Tournament of Champions between each of the season's Smash or Dash winners. Duking it out are Great Tiger, Funky Kong, Metal Slug, Chell, Lusamine, Lich King, Slippy Toad, Master

August 28, 2021
For our next Smashtopia, it's... Aang and Steven Universe!? Zantok and Jonno dive into the respective worlds of Avatar: The Last Airbender and Steven Universe for their end-of-season solo submissions. This time, the theme is 4th Party Characters!

August 14, 2021
Zantok and Jonno play their first-ever Super Cast Bros. Roster Game! Sorting between newcomers for companies like Blizzard, Ubisoft, and even Sony, they talk about a swath of ideas for potential Smash characters whilst denoting their favorites.

July 31, 2021
The indubitable Zach (CurbwalkerZ) joins Zantok and Jonno as they get down with Fall Guys and Among Us, and none other than Ronald McDonald and the Burger King themselves! Who will make it into the hypothetical fray, and whose hopes will be dashed?

July 17, 2021
Zantok and Jonno set the good Dr. Mario under the operating table and get going on a moveset revamp!

July 03, 2021
Zantok and Jonno react to E3 2021, poring over various reveals, including their Top 5s. Then, they higlight the inclusion of Tekken's Kazuya in Super Smash Bros. Ultimate. What did they think of this year's E3? What did YOU think?

July 02, 2021
It's a battle made for the silver screen! Is it Sam Porter Bridges vs. Eddie Riggs and Lara Croft vs. Nathan Drake, or Norman Reedus vs. Jack Black and Alicia Vikander vs. Tom Holland? Either which way, Zantok and Jonno dive into a couple of Smash or Dash

June 05, 2021
Tales of Vesperia's hero, Yuri Lowell, is given the Smashtopia treatment by Zantok and Jonno, alongside Tales afficionado, Dodds!

May 22, 2021
F-Zero returns... in the first match-up of this Smash or Dash! Zantok and Jonno dive into discussion on who they'd rather have in Super Smash Bros. - Super Arrow or The Skull? Then, they follow it up with Operation Rainfall classics as Zael and Aeron take

May 22, 2021
Enter the Rift! Zantok and Jonno are joined by guests Arun & Suji to discuss the potential of League of Legends representation in Smash.