Super Cast Bros.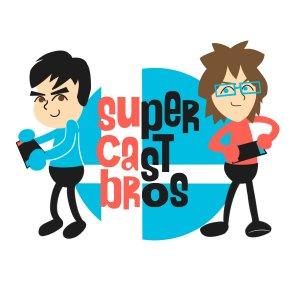 Latest Episodes

April 24, 2021
Flamezone (Eric) returns to Super Cast Bros. for his first-ever Smashtopia episode alongside the usual knuckleheads, Zantok and Jonno. Together, the trio take surprising turns as they craft a detailed moveset for Fire Emblem's Lyn - or Lyndis, if you pref

April 13, 2021
Pyra & Mythra awaken! Zantok & Jonno touch on the latest DLC entrants from the hit RPG, Xenoblade Chronicles 2, including their reactions towards their reveal and impressions on how they play.

March 27, 2021
Two bombacious dudes of questionable backgrounds, two do-good sleuths with hearts of gold, Zantok and Jonno discuss the finer points of GTA's Trevor Philips and Yakuza's Kazuma Kiryu, as well as the sharper edges of Phoenix Wright and Professor Layton in

March 16, 2021
Zantok and Jonno strike their own riffs when workshopping a Toxtricity moveset! What will they decide on for the fan favorite Gen. 8 Pokemon?

March 16, 2021
Jonno and Zantok take things easy as they pit 2 bundles of Smash Bros. fighters into a Bransteele Survivor simulator. Who will get voted out early and who will go on to win the whole game? Join us as we try to create some semblance of a story of the chaos

February 13, 2021
It's sci-fi week at the Super Cast Bros. table, and Zantok's brother Twilix joins the equation to decide between Sylux & Slippy, and Doomguy & Master Chief!

January 30, 2021
Jonno and Zantok step to the beat towards Rhythm Heaven with their very own Marshal moveset!

January 16, 2021
Jonno and Zantok react to the mind-breaking inclusion of Sephiroth in Smash! As the One-Winged Angel falls into the fray, the guys react to his playstyle, his iconic reveal, and what it means for the future of Super Smash Bros. at large.

January 14, 2021
It's a double battle of villains as Zantok and Jonno pit Lusamine and Medusa against one another, followed by WoW's Lich King and Silent Hill's iconic Pyramid Head! Stay tuned for a tiebreaker and vote for your favorite!

December 19, 2020
Things get space-tacular when Trevor (turbotaxer) regroups with Zantok and Jonno for yet another Smashtopia! This time, the inimitable trio workshop a moveset for none other than the pinball-headed, pig-loving alien, Orbulon!