Strength To Be Human --Global Arts & Affairs Podcast, Hosted by Mark Antony Rossi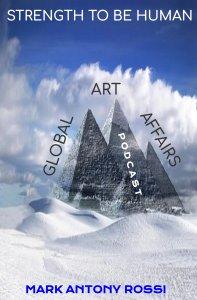 Latest Episodes

July 17, 2021
In this episode we will examine forms of PTSD, events and triggers and possible therapies. We will also share some stories of everyday people dealing with trauma and what they did to overcome.

July 11, 2021
Another wonderful podcast of inspired listeners asking questions about various shows and topics. Featured are questions on Doubt, Faith and the History of Writing. 

July 05, 2021
Brief reflections and thoughts on the life, works and statesmanship of Czech playwright, poet and President, Vaclav Havel.

June 25, 2021
In one of our more lengthier episodes I tackle the carelessness of positive writing by pointing out how lighter writing need not be boring, cliched or inconsequential.    Intro:  Light vs Lightweight Honest Renditions of Nature Inner Life and Family Maki.

June 20, 2021
Writers need to invest themselves in their writing or risk producing distant jumbles lacking life.    Intro Bridging the Distance Standing Your Ground

June 12, 2021
A full show on the subject of literary submission tracking:   Submission Tracking a. do's and don'ts b. free software c. paid software d adapted software e. paper and pencil   Submittable   a. it's purpose b. built in sub tracking c. discover research ma.

June 07, 2021
In one of our most controversial episodes we take to task writers who instead of being active observers of society become parrots of propaganda and in essence stop being writers. 

May 31, 2021
The act and even thought surrounding writing has changed throughout the centuries as we have evolved from papyrus to digital. The following sections outline each major change:   Writing in Stone Writing in Paper Writing in Memory Writing in Vinyl Writing.

May 25, 2021
Faith rounds out the trio of influences on writers (Fear and Doubt being the other two) and we explore in three sections the meaning of faith in writing: Faith in Creation (Writing) with quote from Antonine de Saint-Exupery Faith in Communication (Submis.

May 18, 2021
We tackle the common foe of Doubt in this episode by dividing the show into two parts:   Doubt in Self Doubt in Writing