Rewire Your Attachment Style with Maya Diamond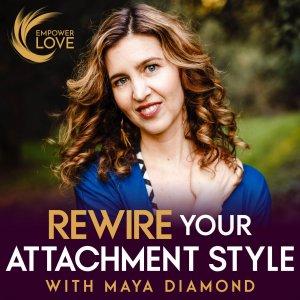 Latest Episodes

August 21, 2021
In this interview, Kute Blackson shares about why surrender is one of the most powerful energies we can embody. He uncovers how this effects our lives, our relationships, and our goals. We delve into

May 16, 2021
In this interview, my friend and colleague, Garrison Cohen and I interview our dear friends Bri and Bjorn about their 25 year relationship. In this rich episode, Bri and Bjorn take us on a journey through the ecstasy, growth,

May 01, 2021
In this episode, I interview Julie, who graduated almost a year ago from the program. Her life has transformed, her relationships have transformed, and the relationship she has with herself has transformed. To top it off,

March 01, 2021
Worthiness is at the Heart of Secure Attachment In this episode, I share why worthiness is at the heart of secure attachment and the 4 steps to cultivate it – no matter where you are on the worthiness spectrum.

February 14, 2021
In this episode, I share why where we are manifesting from matters and how to dial in the physical, emotional, and energetic place you are manifesting from to actualize your dreams. I lead you through visualizations and share a ritual to manifest your ...

January 22, 2021
In this episode, Maya interviews Christine, a graduate of the Empower Love program about her experience of gaining confidence and finding a healthy loving relationship in the middle of a pandemic. To receive free support with this,

January 03, 2021
In this episode, I have the pleasure of sharing with you the written success stories of my clients. I share these stories to expand your perception of what's possible for you as well as to have you hear a little bit about the work I do.

December 19, 2020
In this episode, Maya has the honor and pleasure of interviewing Diya who graduated from the Empower Love Program. Diya shares what shifted for her both in her relationship to her self and in her love life as a result of the program and why she recomme...

December 05, 2020
Today we explore vulnerability -I share what it is, and the potential blocks to sharing it. And I guide you through an exercise to get in touch with your particular blocks and the vulnerable truth that you may be holding back.

November 15, 2020
In this episode, I share why listening is so important and 4 skills to utilize for excellent listening. These are: presence, questions, mirroring, and listening with an open heart. These skills are simple but so profound.