The Really Awful Movies Podcast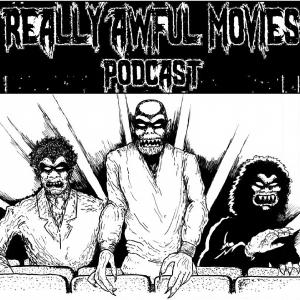 Really Awful Movies: Ep 65 - Horror-Rama 2015
October 21, 2015
We were honored to be asked to cover Horror-Rama 2015, the second edition of Toronto's only all-horror convention. The brainchild of Luis Ceriz and Chris Alexander, Horror-Rama is a fun-filled weekend of guests, vendors, panels, screenings and parties. Bigger and better than last year, this year's edition featured some incredible guests. A fantastic time was had by all!
In this podcast, you'll hear interviews with:
George Mihalka - Director, My Bloody Valentine
Sybil Danning - Hercules, Battle Beyond the Stars, Howling II...Your Sister is a Werewolf
Linnea Quigley - Return of the Living Dead, Night of the Demons, Silent Night, Deadly Night
Ian McCulloch - Zombie, Zombie Holocaust, Contamination
Tristan Risk - American Mary, The Editor
Michael Berryman - The Hills Have Eyes, One Flew Over the Cuckoo's Nest, The Devil's Rejects,
Debbie Rochon - Tromeo and Juliet, Slime City Massacre,Killer Rack, Model Hunger
Cherie Currie - Lead Singer of The Runaways, Parasite, Twilight Zone: The Movie
Corpusse - Musician
Chris Alexander - Horror-Rama Co-founder, Editor ShockTillYouDrop.com, Queen of Blood, Blackglovekiller
Enjoy!
---
Download Episode