Real Estate Right Now
Are We in a Real Estate Recession?
September 22, 2022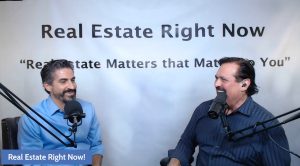 That's the big question many people are asking…Are we in a housing recession? The reality is it depends on who you ask. Some will say, "yes, we are." Others will say, "we are not even close", and still others will say, "it's knocking at our door". Who do you believe? And what are the signs?


In this episode of Real Estate Right Now, real estate veteran Steve Kruger, Listing and Buyer Expert from Linda Craft Team Realtors and holds an economics degree from University of Tennessee joins us to give us his professional perspective on what are the signs of a recession, what one looks like, are we in one, and if not how to know if you are in one. Email Steve at steve@lindacraft.com


Then first time guest Christopher Coy, Vice President of lending with Towne Bank mortgage, who holds a degree in finance from North Carolina State University gives us insights from his education and 23 years in the mortgage business as to what a recession looks like from the mortgage industry.  You can contact Chris at 919-306-8895 or email him at ccoy@townebankmortgage.com
---
Download Episode