Reach - Then Teach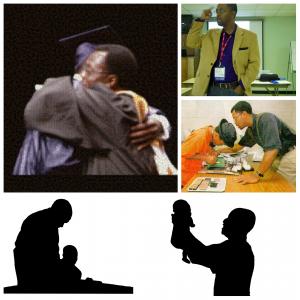 Dear Hannah: LEarning (Standup Storytelling (Epiphany Application))
June 03, 2019
Dear Hannah,

My name is Derrick (Brown).

I am Keisha's husband.

I am Hannah's father.

I am a "standup storyteller".

I fuse rap, spoken word (poetry), oration (traditional public speaking), singing, and teaching into messages of hope, healing, and change that I write, direct, and produce to help people who help people.

I know that change begins with me - and the renewing of my mind ...

... then continues through efforts to effect small-group discipleship (equipping others to equip others) with audiences that respect and embrace mentoring, mediation, and problem solving as tools of change.

During the last 2 years, I have produced 2 "standup storytelling" albums, and have created two works for the stage.

We now want to host, record, broadcast (via YouTube) and podcast (via Blubrry) live monthly "standup storytelling" productions that present 5-7 short stories spun by several brave tellers that align with the evening's theme.

Season 1's themes will include "My Friends Don't Know That I …", "Commencement", "LEarning", and "The Stage Coach".

I also want to perform a quarterly series of one-man "standup storytelling" shows entitled "Daddy's Home", "Dear Hannah", "changED", and "Follow The Leader".

These storytelling events will effect small-group discipleship.
This discipleship will create diverse, inclusive, and sensitive environments that promote hope, healing, and change.

Love,

Daddy
---
Download Episode