Podcast Insider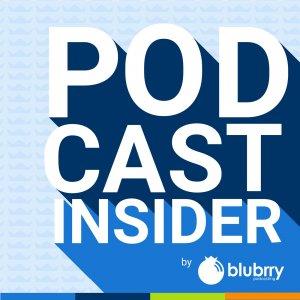 Who Owns Your Podcast, featuring Misty Phillip from Spark Conference – PCI 216
November 05, 2020
Ownership of your podcast is Blubrry's top priority, don't worry we tell you why it's critical as a creator. That's not all we talk about on this episode, we interviewed Misty Phillip, creator of the Spark Christian Podcast Conference, happening all day Friday, November 6 2020.

We're excited to be be sponsoring Spark as well as a keynote speaker. Todd will be speaking on the future of podcasting, and other speakers touching on the possibilities for the Christian community to get involved in podcasting. We're giving away a year's worth of podcast hosting to one lucky winner.

Lastly, you'll see a few small tweaks this episode, we're looking forward to hearing questions from you to answer in the future.
Thanks for joining us this episode of Podcast Insider. Looking to be a guest on the show? Let us know.
Recorded live from two well-separated and socially distant podcast studios in northern and southern Michigan; here's Podcast Insider.
Facebook live recording
News:

Google's impact on podcasting and search, an insightful look at the future.

Dan Franks from Podcast Movement was featured in Podcast Business Journal.

Podcast Movement 2021 will be in Nashville.

Nielsen says 'Host Reads' are better than other forms of podcast advertising. Yes, Blubrry teams are well aware of this fact.

YouTube channels pirating podcasts? Check out this one.

Apple says delays are likely between Nov. 20-30 and between Dec. 23, 2020 and Jan. 2, 2021.  Apple said..."Shows submissions during these windows may not be available within our regular time frame of five business days."

Evolving the audio community. Elsie Escobar recently sparked discussion about how the audio industry still has some work to do with expanding on diversity.

Best Practice:
Who owns your podcast? There can be many answers to this question but we hone in on 'The Blubrry Way', ensuring that podcasters are aware of all of the ways they can control their intellectual property, branding and more.
Blubrry News:

PowerPress 4.8.2 has been released. The biggest change is a subscribe link for Podcast Index.

Podcast tools that podcasters love, how podcasters have upped their game in 2020.

Todd speaking at Spark conference.

Interview:
Misty Phillip, from Spark Christian Conference

Looking to be a guest on the show? Contact us.
Question(s) of the Week:
NEW! - If you have a question or feedback, click on the "Leave a voicemail" tab on PodcastInsider.com.  Record your question and we may answer it on the show.
Question: I had a couple of bonus episodes from a few months ago that were posted on Patreon only.  As placeholders, I posted blog posts on my website with no actual audio episode attached and instead just a link to the Patreon and all the show notes...but now I want to actually post those as real episodes in the main podcast feed. If I go back to those blog posts and attach an audio episode to them...
1) Will they show up in everyone's podcast app as new episodes?
2) If they do, will they show up with a date of back when I first posted them or will they change to the new current date of when I update them with an actual episode file?
Answer: They'll show up as new episodes, but backdated based on your post date. If you want them to display as the most recent episodes, change the post dates.

Connect with Misty here...

Attend Spark
Contact Misty
Facebook
Twitter
Instagram

__
Promo code INSIDER for a free month at Blubrry.com
Coming at you this week from Blubrry Studios in and Northern and Southern Michigan.
---
Download Episode