NO HOME FOR HEROES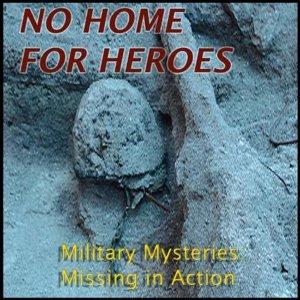 Episode 68 - The Navy Buried Them At Sea But No One Told The Families
June 04, 2021
IN JULY 1945, THE CRUISER USS INDIANAPOLIS DELIVERED THE ATOMIC BOMB COMPONENTS TO TINIAN ISLAND THAT WOULD SOON BE THE INSTRUMENT TO END WORLD WAR II.
WITH A JOB WELL DONE (OR A "BRAVO ZULU" IN NAVY SPEAK) THE INDY SPED TOWARD HER NEXT ASSIGNMENT IN THE PHILIPPINES BEFORE THE BOMBS WERE DROPPED ON HIROSHIMA AND NAGASAKI.
SHE NEVER MADE IT. TWO TORPEDOES FROM A JAPANESE SUBMARINE SENT THE INDY TO THE BOTTOM IN FIFTEEN MINUTES AND 900 AMERICAN SAILORS SPILLED INTO A DARK OCEAN FULL OF SHARKS AND NO DISTRESS SIGNAL ACKNOWLEDGED.
SOME OF YOU MAY HAVE HEARD OUR PODCASTS OF "NO HOME FOR HEROES" BEFORE AND SOME OF YOU MAY KNOW OF OUR FOUNDATION FOR OUR EFFORTS TO INVESTIGATE THE CASES OF OVER 500 MISSING AMERICAN SERVICEMEN AND WOMEN SINCE 2006. BUT HOW DO YOU INVESTIGATE CASES OF SAILORS WHO WERE LOST AT SEA?
HOLD ON AND WE WILL TELL YOU ABOUT A VERY LITTLE KNOWN ASPECT OF THE INDY STORY THAT WILL ANSWER THAT QUESTION FOR YOU.
---
Download Episode