NO HOME FOR HEROES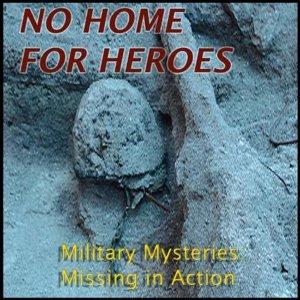 Episode 63 - Finding a Rock In An Australian Cloud - Part Two
April 25, 2021
AT 0800 HOURS ON 10 MARCH 1942, CAPT JOSEPH POTTER McLaughlin EASED HIS 5 FOOT, 5 INCH FRAME INTO THE COCKPIT OF A P-40 E KITTYHAWK FIGHTER PLANE IN Canberra, AUSTRALIA on A PLANNED return flight TO HIS HOME BASE AT LAVERTON FIELD ABOUT 255 MILES AWAY. He did not inform anyone of the direction he was heading when he took off. HE ALSO DID NOT PLAN ON FINDING A ROCK IN A CLOUD ON THIS FLIGHT…BUT HE DID.
PILOTS ALL OVER THE WORLD HAVE A GRIM SAYING ABOUT AIRCRAFT CRASHES USUALLY CAUSED BY PILOT ERROR IN FLYING TOO LOW TO THE GROUND…PILOTS REFER TO IT AS "FINDING A ROCK IN A CLOUD." HISTORY IS FULL OF FAMOUS DEATHS CAUSED BY PILOTS "FINDING A ROCK IN A CLOUD"…ACTRESS CAROLE LOMBARD, SINGER PATSY CLINE, AND EVEN MORE RECENTLY…KOBE BRYANT.
AFTER OVER 60 YEARS, CAPTAIN McLAUGHLIN WAS IDENTIFIED AS A THE VICTIM OF FINDING THAT INFAMOUS "ROCK IN A CLOUD" DURING WORLD WAR II. THE QUESTION IS "WAS IT REALLY CAPTAIN McLAUGHLIN THAT WAS FOUND?"
---
Download Episode