NO HOME FOR HEROES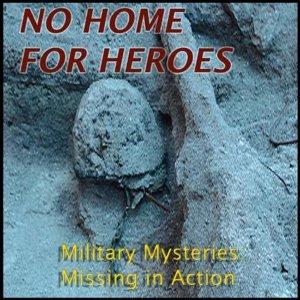 Episode 63 - Finding a Rock In An Australian Cloud - Part One
April 18, 2021
TODAY'S EPISODE OF "NO HOME FOR HEROES" IS TAKEN FROM CASE NUMBER 0411 IN THE FILES OF THE CHIEF RICK STONE AND FAMILY CHARITABLE FOUNDATION.
PILOTS ALL OVER THE WORLD HAVE A GRIM SAYING ABOUT AIRCRAFT CRASHES USUALLY CAUSED BY PILOT ERROR IN FLYING TOO LOW TO THE GROUND…PILOTS REFER TO THESE TRAGEDIES AS "FINDING A ROCK IN A CLOUD." HISTORY IS FULL OF FAMOUS DEATHS CAUSED BY PILOTS "FINDING A ROCK IN A CLOUD"…ACTRESS CAROLE LOMBARD (THE WIFE OF ACTOR CLARK GABLE), SINGER PATSY CLINE, AND EVEN MORE RECENTLY…KOBE BRYANT.
TODAY'S STORY HAS A TWIST…
AFTER OVER 60 YEARS, AN AMERICAN ARMY AIR CORPS OFFICER WAS FINALLY IDENTIFIED AS THE VICTIM OF FINDING THAT INFAMOUS "ROCK IN A CLOUD" DURING WORLD WAR II.
BUT WAS IT REALLY THE PERSON IDENTIFIED OR SOME OTHER UNFORTUNATE PILOT WHO FOUND THE ROCK?
STAY TUNED FOR PART ONE OF A TWO PART SERIES IN THIS AMAZING INVESTIGATION.
---
Download Episode