In Search of the New Compassionate Male
EP108: Dr. Riane Eisler – From "Domination to Partnership"
March 19, 2022
Riane Eisler is a social systems scientist, cultural historian, futurist, and attorney whose research, writing, and speaking has transformed the lives of people worldwide. Her newest work, Nurturing Our Humanity: How Domination and Partnership Shape Our Brains, Lives, and Future, co-authored with anthropologist Douglas Fry, shows how to construct a more equitable, sustainable, and less violent world based on Partnership rather than Domination.
Dr. Eisler is president of the Center for Partnership Systems (CPS), dedicated to research and education, Editor-in-Chief of the Interdisciplinary Journal of Partnership Studies, an online peer-reviewed journal at the University of Minnesota that was inspired by her work, keynotes conferences nationally and internationally, has addressed the United Nations General Assembly, the U.S. Department of State, and Congressional briefings, has spoken at corporations and universities worldwide on applications of the partnership model introduced in her work, and is Distinguished Professor at Meridian University, which offers PhDs and Master's degrees based on Eisler's Partnership-Domination social scale.
Dr. Riane Eisler's extensive research published in her books has inspired scholars and social activists. Her research has had an effect in many fields, including history, literature, philosophy, art, economics, psychology, sociology, education, human rights, organizational development, political science, and healthcare.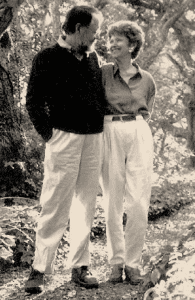 David Loye, Riane Eisler's beloved husband and partner, died of Covid during the night of January 24, 2022. This was two days after they celebrated their 45th Anniversary. We invite you to join Riane Eisler in honoring and remembering David.
---
Download Episode