Cyber Security Weekly Podcast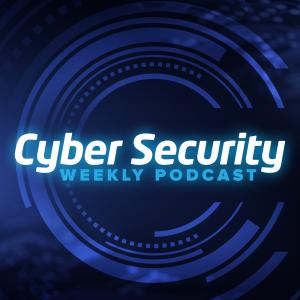 Episode 147 - Pre-War Phase, Warfare & Cyber: Amongst Space, Air, Land, Sea, Time & Perception - Interview with Dr. Malcolm Davis, ASPI
March 29, 2019
"In WWII we primarily fought a three-domain fight — sea, air, & land...Today, & in the future, we will be fighting adversaries in seven domains — sea, air, land, space, cyber, as well as two "new-old" domains: perception & time." (1)
Whilst in Canberra for the #CyberTaipan National Finals pilot program, we visited the Australian Strategic Policy Institute (ASPI) and met with Dr. Malcolm Davis, Senior Analyst to discuss defence, cyber, space, China, USA, droneswarms, Warfare Tactics in this pre-war phase.
A confronting discussion with terms and reference to the reality of AI/ML driven fire-ant warfare tactics, the 'Thucydides trap', slaughterbots and hypersonicweapons - "brilliant weapons that can think for themselves"
Recorded 15 March 2019, Canberra.
RELATED INTERVIEW
Episode 87 - Australia's Offensive Cyber Capability and Deterrence In Cyberspace, interview with Fergus Hanson, ASPI's International Cyber Policy Centre
Episode 138 - Cyber Breach Communication Playbook - In-depth interview with author Peter Coroneos (Discussion includes the 'Thucydides trap' - USA & China)
REFERENCES & FURTHER READING
(1) Future War Not Back to the Future, Lt. Gen. Mike Dana. Lt. Gen. Dana is a career logistician and strategic planner. He served in Desert Storm, Operation Restore Hope in Somalia, Operation Iraqi Freedom, and Operation Enduring Freedom. His last joint assignment was as the Director of Strategic Planning and Policy at US Indo-Pacific Command. https://warontherocks.com/2019/03/future-war-not-back-to-the-future/
ADMIRAL PHILIP S. DAVIDSON, U.S. NAVY, COMMANDER, U.S. INDO-PACIFIC COMMAND, 12 FEBRUARY 2019
"The speed of war has changed, and the nature of these changes makes the global security environment even more unpredictable. It's dangerous and unforgiving. Time and decision space have collapsed, so our approach to warfare must adapt to keep pace
Beijing and Moscow continue to develop and field advanced counter-intervention technologies, which include highly maneuverable reentry vehicle and warheads (hypersonic weapons). Beijing and Russia possess cruise missiles and small-unmanned aerial systems (sUAS) that fly different trajectories, making them hard to detect, acquire, track, and intercept due to unpredictable lowflight profiles and sophisticated countermeasures. North Korea retains its nuclear and ICBM capabilities.
Effective counters to the expanding asymmetric unmanned aerial system (UAS) threat including potential for multiple swarms of small UAS.
The challenges grow each year as our forces continue to deploy at unprecedented rates while the DoD grapples with fiscal uncertainty."
ASPI REPORTS & REFERENCES
ASPI Strategist - https://www.aspistrategist.org.au/
Dr. Malcom Davis - https://www.aspistrategist.org.au/author/malcolm-davis/
Reports
https://www.aspi.org.au/report/agenda-change-2019
https://www.aspi.org.au/report/big-data-china-and-battle-privacy
https://www.aspi.org.au/report/hacking-cash
https://www.aspi.org.au/report/huawei-and-australias-5g-network
https://www.aspistrategist.org.au/australia-and-the-taiwan-contingency/
https://www.aspistrategist.org.au/its-time-to-renew-australias-north-as-a-source-of-strategic-advantage/
https://www.aspistrategist.org.au/loyal-wingman-to-take-australias-airpower-into-the-next-era/
Additional - WA Government Huawei project
https://www.perthnow.com.au/politics/state-politics/metronet-inside-wa-governments-huawei-deal-ng-b881092525z
---
Download Episode