Military Homeschool Podcast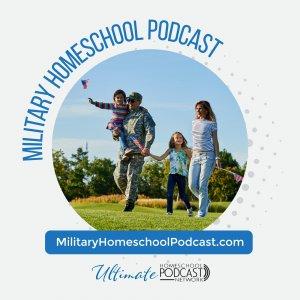 Replay | Making Space to Homeschool: Interview with Amber Smith
July 18, 2023
Episode #30- As military families, we move around a lot! And as a result, we must determine a new dedicated homeschooling area in each house or apartment we live in every few years. We may even find ourselves readjusting our homeschool area in the same place due to a new baby, growing kiddos, or just trying to freshen up and organize our space. On today's show, Amber Smith from 200 Fingers and Toes joins Crystal to talk about making space to homeschool!
Homeschooling, and all the curriculum and supplies that go with it, can take up a lot of space in our homes. Many families don't have an extra room to dedicate to school, and just finding an area for storage is a challenge. Every few years, we may also find ourselves homeschooling in the cramped confines of a hotel room or out of cardboard boxes after a PCS. Whatever the circumstance we find ourselves in, Amber offers tips and advice for creating a workable solution for your current homeschool situation.
Listen in to hear how Amber met the challenges of frequent moves and remodeling a farm while homeschooling a large family, what considerations to factor in when determining your homeschool space needs, and why education doesn't always have to take place inside our homes!
 Amber Smith and her chef husband of 26 years raised ten wild children in southern Iowa. Her desire to help homeschool parents avoid burnout, build their best life, with strong relationships led her to start blogging at 200 Fingers & Toes. That is where you can find the latest articles, product reviews, new In Due Season Homeschool Podcast episodes.
 A second-generation homeschool grad herself with a public school background, Amber understands the experience of transitioning a family to homeschool living. Amber serves the homeschool community as a freelance writer, reviewing and contributing to popular homeschool blogs and magazines by sharing tips and tools used in their homeschool over the last eighteen years. Wherever she speaks, Amber offers practical examples to equip your homeschool, define your goals, dream bigger and build relationships that are vibrant and active.
Resources:
Homeschooling in Crisis or while Displaced
Tips for Quick Homeschool Set Up for Your 1st Year
Join Crystal and her guests each week as they bring relevant information to equip you, stories to encourage you, and content to inspire you. You don't have to go it alone; tune in to the Military Homeschool Podcast and be energized in your military homeschooling journey!
How to listen:
Subscribe on Apple Podcasts, Google Podcasts, iHeartRadio, or Stitcher

Subscribe on your favorite podcast listening app

Or listen right here (just scroll down)

Got questions, comments, or have show topic ideas? Contact Crystal via email at militaryhomeschoolpodcast@gmail.com or connect with her on Facebook, Instagram, or Twitter.
Please subscribe, follow, and share with all of your military homeschooling friends!
The post Replay | Making Space to Homeschool: Interview with Amber Smith appeared first on Ultimate Homeschool Podcast Network.
---
Download Episode