Military Homeschool Podcast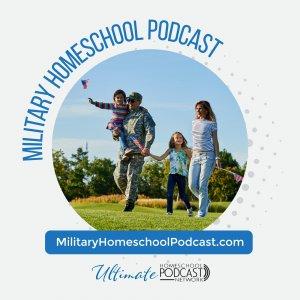 Quick Healthy Meals For Busy Days
September 12, 2023
Quick Healthy Meals For Busy Days
S2, E5 – On this episode, Crystal discusses the hows and whys of healthy meals that are quick and easy to make for those busy homeschooling days! If you're interested in learning some tips, and a few recipes, that won't keep you in the kitchen all night, be sure to tune in! 
One cornerstone of homeschooling is facilitating our children's learning resources and environment in a way that provides a well-rounded education. And that is what our homeschoolers get!  However, while parents spend many hours planning and implementing enriching curriculums, nutrition, and healthy eating can fall by the wayside.
We homeschool moms understand how busy our days can be, so it's no surprise that we often turn to fast food options and convenient yet unhealthy snacks when hunger strikes. Fortunately, the good news is that healthy eating doesn't have to be overly complicated. Listen in to learn more!
Quick and easy meal ideas:
●      Sweet Potato and Bean Quesadillas
●      Zucchini and Sausage Stove Top Casserole
Snacks recipes:
●      Peanut/Almond Butter, Honey, and Pear Open-faced Sandwich
Sources:
Energy Levels and Diet – Tufts Health & Nutrition Letter
U.S. Kids Get Majority Of Their Calories From Ultra-Processed Junk Foods: NPR
Childhood Nutrition Facts | Healthy Schools | CDC
Healthy Eating for Kids: Nutrients, Eating Habits, and Picky Eaters (healthline.com)
…
Join Crystal and her guests each week as they bring relevant information to equip you, stories to encourage you, and content to inspire you. You don't have to go it alone; tune in to the Military Homeschool Podcast and be energized in your military homeschooling journey!
How to listen:
Subscribe on Apple Podcasts, Google Podcasts, iHeartRadio, or Stitcher

Subscribe on your favorite podcast listening app

Or listen right here (just scroll down)

Got questions, comments, or show topic ideas? Contact Crystal via email at militaryhomeschoolpodcast@gmail.com or connect with her on Facebook, Instagram, or Twitter.
Please subscribe, follow, and share with all of your military homeschooling friends!
The post Quick Healthy Meals For Busy Days appeared first on Ultimate Homeschool Podcast Network.
---
Download Episode