World News Brief Podcast by CGM Radio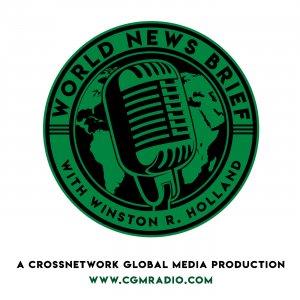 You Ain't Seen Nothing Yet – World News Brief Ep. 8
June 05, 2020
World News Brief Episode 8
You ain't seen nothing yet. What we've seen the first part of 2020 is just the beginning of the chaos and mayhem to descend upon the US between now and election day, but there is HOPE. Plus, the US and the Western World appear to be standing up to the Chinese Communist Party. All of this and more on this week's edition of World News Brief by CGM Radio.
Subscribe to the World News Brief Podcast:
Subscribe on Apple Podcasts
Subscribe on Google Podcasts
Subscribe on Spotify
Subscribe on TuneIn
Subscribe on Pandora
Subscribe on Stitcher
Subscribe on Android
"Alexa, play the World News Brief Podcast"

Stay in Touch with Us
World News Brief on Twitter
World News Brief on Facebook
Email World News Brief
CGM Radio on Facebook
CGM Radio on Twitter
ALL of the Great Shows on the CGM Radio network
The Bob Siegel Show
Faith – Reason – Culture
Big Tex Small Biz
JP's Political Matrix
The Price of Life
NYT Antics
Articles and Links Mentioned on the Show
'The nightmare is over': Iran releases US veteran after nearly two years of captivity (WashEx)
Exclusive: U.S. to impose restrictions on additional Chinese media outlets – sources (Reuters)

I call upon the administration to prioritize the admission of persecuted Hong Kongers to the United States through the U.S. Refugee Admissions Program.
In coordination with our allies, we can help save these brave Hong Kongers from a horrific fate under authoritarian rule. pic.twitter.com/2nZXYNembq
— Tom Cotton (@SenTomCotton) June 4, 2020

British PM Johnson Tells China: We'll Not Walk Away From...
---
Download Episode