Menstruality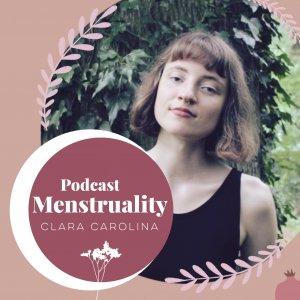 Emotional Eating - Warum ich mich manchmal überesse und was es mir zeigt #13
September 24, 2020
Hallo liebe Zyklusmenschen!
In dieser Folge von Menstruality erzähle ich von meinen Erfahrungen mit "Emotional Eating" und wie sich allgemein unsere Gefühlswelt auf unser Essverhalten auswirken kann. Ich teile hier mögliche Gründe* für emotionales Essen und gebe Tipps und Inspiration, wie man wieder zu einer gesünderen und harmonischen Beziehung zu diesem Thema finden kann. Schaut auch unbedingt in die weiterführenden Links!
Wie wir uns ernähren kann einen entscheidenden Einfluss auf unsere Fruchtbarkeit und damit auf unseren menstruellen Zyklus haben und wie wir diesen wahrnehmen. Daher lohnt es sich für mich immer wieder, genauer hinzuschauen und für mich selbst Wege zu finden, den Körper mit einer reibungslosen Nährstoffaufnahme und Verdauung zu unterstützen und der Seele Liebe und Aufmerksamkeit zu schenken.
Eure Fragen, Anregungen und Erfahrungen könnt ihr auf @clara.carolinaa unter dem entsprechenden Post teilen <3
Unterstützt den Podcast und damit auch andere Zykluswesen, indem ihr die Folgen teilt, den Podcast abonniert oder eine Bewertung schreibt <3
Erwähnte und weitere Links:
Rich Roll Podcastfolge mit Dr. Alan Goldhammer
Fruchtbarkeits-Impulse von Iris Benedens
YOUTUBE 2 Methods To Stop the Real Cause of Overeating
BUCH: "Eiland" von Aldous Huxley
"Eine Essstörung ist der Weckruf deiner Seele" Podcastfolge von Andrea Morgenstern
@clara.carolinaa auf Instagram
Clara Carolina auf YouTube
Werde Teil der Patreon-Community & danke an alle Patreons <3
*Ich teile in den Podcastfolgen, auf Instagram und Youtube meine persönlichen Meinungen und Erfahrungen und möchte zum selbständigen und eigenverantwortlichen Handeln und Denken inspirieren. Es handelt sich um keinen ärztlichen Rat oder eine fachkundige Beratung. Bitte wendet euch dafür an einen Menschen eures Vertrauens mit einem ausübenden Heilberuf!
---
Download Episode