Master Your Coaching Biz Podcast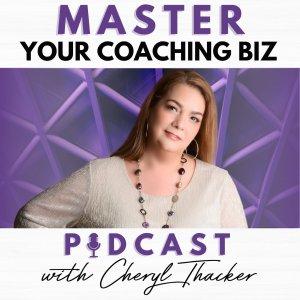 53: PRESENT LIKE A PRO: BUILDING EFFECTIVE PRESENTATIONS WITH DAVID DOERRIER
June 21, 2023
Do you want to captivate your audience and communicate effectively during presentations? Are you tired of feeling nervous or unsure about your delivery? Look no further, in this episode of Master Your Coaching Biz, we had the opportunity to chat with David Dorrier, a seasoned presenter and trainer with a wealth of experience in developing captivating presentations. After dedicating over three decades to refining his skills in various industries, including military service and radio broadcasting, David decided to share his knowledge with those looking to up their game in the world of business presentations. Through his company, Present Your Way to Success, David helps his clients construct engaging, persuasive messages that stick. 
Drawing from his own experience, expertise in adult learning theory, and passion for storytelling, David provides the tools necessary for presenters to truly connect with their audiences and leave a lasting impact.
Here are the great points that we talked about: 
Unlock the secrets to delivering powerful presentations with confidence and clarity.

Discover the subtle art of connecting with your audience for maximum impact.

Uncover the creative process behind persuasive storytelling in presentations.

Learn how to conquer the fears and challenges that hold many presenters back from achieving success.

Gain insights into the eight principles of adult learning theory to optimize your presentations for maximum engagement.

Get connected David Dorrier: 
Website: https://presentyourwaytosuccess.com/
Email: david@pywtsuccess.com
Facebook: https://www.facebook.com/PresentYourWayToSuccess/
LinkedIn: https://www.linkedin.com/in/daviddoerrier/
Take your presentation skills to the next level with a complimentary 45-minute 1:1 coaching session:  https://calendly.com/pywtsuccess/45-minute-podcast-giveaway
Get connected with Cheryl Thacker: 
Website: https://successfulcoaches.com/
---
Download Episode