Less Is Morgue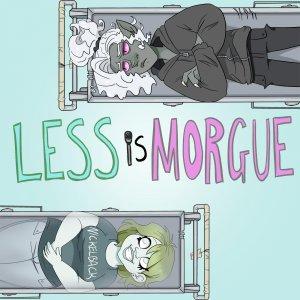 Episode 207: Lights, Camera, Putrefaction!
January 21, 2022
Thank you for your patience on our more inconsistent release schedule lately, everyone! Some team members are having challenging life experiences right now and we'll be producing and releasing episodes sporadically until things smooth out, so keep an eye on your feed.
Until the next one, enjoy this brand new episode!
Riley and Evelyn begin their adventure in extremely amateur filmmaking when Mox, a fan of Riley's novel, gets in contact. She wants to make a movie adaptation of the Sword of R'lyeh!
Twitter:
http://twitter.com/LessIsMorgue
Instagram:
https://instagram.com/lessismorgue/
Tumblr:
http://lessismorguepod.tumblr.com
Facebook:
https://m.facebook.com/lessismorgue/
Support us on Patreon and get some ghoulish Less Is Morgue goodies!
https://www.patreon.com/lessismorgue
Featuring:
Alexis Bristowe as Riley
Meg Molloy Tuten as Evelyn
Kelly Nugent as Mox
Zane Schacht as Yoga Keith
Henry Galley as Killer Joe
And Scott Thomas as the News Reader
***
Less Is Morgue is a Praeps Collective production 
Today's episode was written by Shaun Kingham, Henry Galley, and Gus Zagarella.
Produced by Scott Thomas.
Executive Producer Uri Sacharow.
---
Download Episode