Less Is Morgue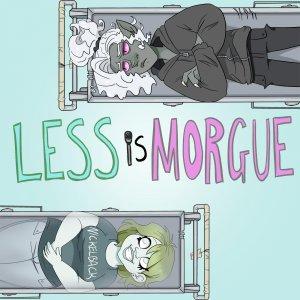 Less Is Morgue Holiday Bonus Episode: Tales from The Sea
December 15, 2021
Less Is Morgue will return on Friday, January 7th! In the meantime, enjoy an old sea yarn from the saltiest sailor who ever sailed: Captain Heteratio Cishmale. Yarrgh!
Twitter:
http://twitter.com/LessIsMorgue
Instagram:
https://instagram.com/lessismorgue/
Tumblr:
http://lessismorguepod.tumblr.com
Facebook:
https://m.facebook.com/lessismorgue/
Support us on Patreon and get some ghoulish Less Is Morgue goodies!
https://www.patreon.com/lessismorgue
Featuring:
Gus Zagarella as Captain Cishmale
Scott Thomas as Captain Thundercock
Jeremy Showell as One-Eyed William
Josh Rubino as Short Jim Bronze
And Zane Schacht as Thomas Woke
***
Less Is Morgue is a Praeps Collective production 
Today's episode was written by Charlie Porritt.
Produced by Scott Thomas.
Executive Producer Uri Sacharow.
---
Download Episode