Less Is Morgue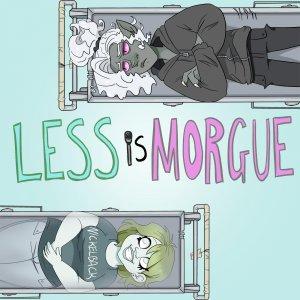 Episode 205: All Dogs Go To Tallahassee
November 12, 2021
Evelyn collects the soul of her beloved dog, Peppermint, from the afterlife. Riley, feeling jealous, tries to get a pet of their own.
Twitter:
http://twitter.com/LessIsMorgue
Instagram:
https://instagram.com/lessismorgue/
Tumblr:
http://lessismorguepod.tumblr.com
Facebook:
https://m.facebook.com/lessismorgue/
Support us on Patreon and get some ghoulish Less Is Morgue goodies!
https://www.patreon.com/lessismorgue
Featuring:
Alexis Bristowe as Riley
Meg Molloy Tuten as Evelyn
Rob O'Dwyer as Glasya-Labolas
Chad Ellis as Todd
Henry Galley as Sam Sarnie
And Scott Thomas as The Todd-Dog Et Al.
***
Less Is Morgue is a Praeps Collective production 
Today's episode was written by Meg Molloy Tuten, Shaun Kingham, and Henry Galley, with additional material from Alex Whitington.
Produced by Scott Thomas.
Executive Producer Uri Sacharow.
---
Download Episode