Less Is Morgue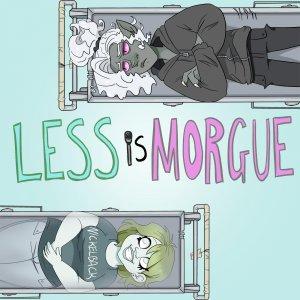 The Less Is Morgue Halloween Special
October 31, 2021
Riley and Evelyn host a Less Is Morgue Halloween Extravaganza! What could possibly go wrong?
Twitter:
http://twitter.com/LessIsMorgue
Instagram:
https://instagram.com/lessismorgue/
Tumblr:
http://lessismorguepod.tumblr.com
Facebook:
https://m.facebook.com/lessismorgue/
Support us on Patreon and get some ghoulish Less Is Morgue goodies!
https://www.patreon.com/lessismorgue
Featuring:
Alexis Bristowe as Riley
Meg Molloy Tuten as Evelyn
Henry Galley as The Baron of Perishing and the IRS Agent
Scott Thomas as Evaporo, Spooky Sal, The News Reader, Kevin's Top Sevens
And Maddie Rambissoon as The Raven.
***
Less Is Morgue is a Praeps Collective production 
Today's episode was written by Alex Whitington, Henry Galley, and Gus Zagarella.
Produced by Scott Thomas.
Executive Producer Uri Sacharow.
---
Download Episode