Less Is Morgue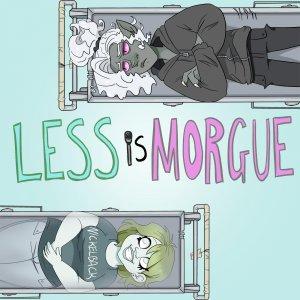 Episode 204: Insane In The Medbrain
October 15, 2021
Riley is running an insane fever that's making them even more delirious and unreasonable than usual. Evelyn, not wanting to see Riley keel over, hires the only doctor who still does house calls - who just happens to be an organ-harvesting serial killer.
SUPPORT JASPER'S TOP SURGERY FUND!
https://www.gofundme.com/f/help-jasper-get-genderaffirming-top-surgery
Twitter:
http://twitter.com/LessIsMorgue
Instagram:
https://instagram.com/lessismorgue/
Tumblr:
http://lessismorguepod.tumblr.com
Facebook:
https://m.facebook.com/lessismorgue/
Support us on Patreon and get some ghoulish Less Is Morgue goodies!
https://www.patreon.com/lessismorgue
Featuring:
Alexis Bristowe as Riley
Meg Molloy Tuten as Evelyn
Will de Renzy-Martin as Dr. Richard Bates
Gus Zagarella as Flauros
Scott Thomas as Marketing Executive
And Ricardo the Toad as Himself
***
Less Is Morgue is a Praeps Collective production 
Today's episode was written by Jasper Taylor, Henry Galley, and Gus Zagarella.
Produced by Scott Thomas.
Executive Producer Uri Sacharow.
---
Download Episode