Less Is Morgue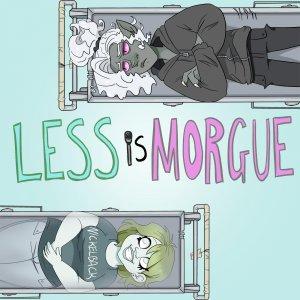 Episode 203: The Rattening
October 01, 2021
A rat is loose in the basement. Of course, Riley wants to eat it, and Evelyn wants to save it. Can a pair of supernatural cockney pest controllers save the day?
Twitter:
http://twitter.com/LessIsMorgue
Instagram:
https://instagram.com/lessismorgue/
Tumblr:
http://lessismorguepod.tumblr.com
Facebook:
https://m.facebook.com/lessismorgue/
Support us on Patreon and get some ghoulish Less Is Morgue goodies!
https://www.patreon.com/lessismorgue
Featuring:
Alexis Bristowe as Riley
Meg Molloy Tuten as Evelyn
Zane Schacht as Wackford Kratchet 
Scott Thomas as Bob Sketter (The Rat Getter)
Matt Bradford as Teddy Almanzor
And Richard Henshaw as Ratthew
***
Less Is Morgue is a Praeps Collective production 
Today's episode was written by Charlie Porritt.
Produced by Scott Thomas.
Executive Producer Uri Sacharow.
---
Download Episode