Less Is Morgue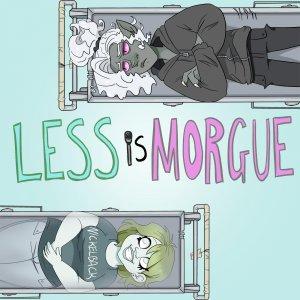 Episode 202: An Oldie But A Hoodie
September 17, 2021
Riley and Evelyn are doing some spring cleaning around the basement, but letting go of the past is a lot harder when the past refuses to let go of you.
Twitter:
http://twitter.com/LessIsMorgue
Instagram:
https://instagram.com/lessismorgue/
Tumblr:
http://lessismorguepod.tumblr.com
Facebook:
https://m.facebook.com/lessismorgue/
Support us on Patreon and get some ghoulish Less Is Morgue goodies!
https://www.patreon.com/lessismorgue
Featuring:
Alexis Bristowe as Riley and Lavinia Fisher
Meg Molloy Tuten as Evelyn and Countess Bathory
Josh Rubino as Riley's Hoodie and William Burke
Zane Schacht as HH Holmes
Gus Zagarella as Manfred the Porcupine
And Scott Thomas as Norman Bates
***
Less Is Morgue is a Praeps Collective production 
Today's episode was written by Meg Molloy Tuten and Gus Zagarella.
Produced by Scott Thomas.
Executive Producer Uri Sacharow.
---
Download Episode