Less Is Morgue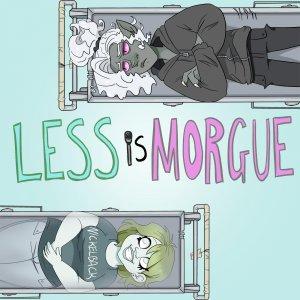 Episode 130: Basements and Dragons
April 23, 2021
Riley and Evelyn are preparing to play a game of D&D for the penultimate episode of Season 1. Joining them are a bloodthirsty, hyper-competitive vampire, a spaced-out white trash fire-demon, and a certain supernatural tech mogul that our heroes are always trying to get rid of.
Prepare for the ride of a deathtime. This is: Basements and Dragons.
Twitter:
http://twitter.com/LessIsMorgue
Instagram:
https://instagram.com/lessismorgue/
Tumblr:
http://lessismorguepod.tumblr.com
Facebook:
https://m.facebook.com/lessismorgue/
Support us on Patreon and get some ghoulish Less Is Morgue goodies!
https://www.patreon.com/lessismorgue
Check out CARAVAN here!
https://www.whisperforge.org/caravan
Check out The Alexandria Archives here!
http://www.alexandriaarchives.com/
Original music from Veronica Stonebraker! Check out more of her work here!
https://soundcloud.com/veronicas1995
Featuring:
Alexis Bristowe as Riley
Meg Molloy Tuten as Evelyn
Eden as Camille Domino
Gus Zagarella as Flauros
Chad Ellis as Todd
Charlie Porritt as John Knifeman
Sonya as Wife Knifeman
Uri Sacharow as Gore
Josh Rubino as Baal
And Scott Thomas as Satan
***
Less Is Morgue is a Praeps Collective production
Produced by Scott Thomas.
Executive Producer Uri Sacharow.
Today's episode was written by Eden, Meg Molloy Tuten, Charlie Porritt, Henry Galley, Shaun Kingham, and Gus Zagarella.
Art by Meg Molloy Tuten and Shaun Kingham.
Theme by Nick Heilman.
NOTE: The ending skit, featuring Gore from The Alexandria Archives and Baal from CARAVAN, was made with permission of Uri Sacharow and Tau Zaman respectively, for which we are extremely grateful. The skit is not canon to either The Alexandria Archives or CARAVAN, and we make no attempt to suggest that it is so.
---
Download Episode