It Aint Weak to Speak with Sam Webb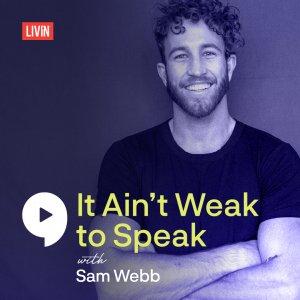 #14 Emma Benoit Speaks On Being Paralyzed After a Suicide Attempt
July 04, 2020
June 7, 2017 is a date that will always be etched into the mind of our incredible guest today.  It was on this day that Emma Benoit tried to take her own life. In this episode, we dive deep into Emma's story and she shares about the months leading up to her suicide attempt and the moments following where she felt nothing but deep regret and the fight to stay alive.  Emma openly talks about her struggles and breaking points throughout her time in rehab hospital with a spinal injury and how her new found faith helped her through the journey to recovery.  Unlike most people, Emma was given a second chance and she recounts a spiritual encounter which completely shifted her perspective to see life through a new lense.
For the full show notes and to learn more, head to www.livin.org
@livinorg @benoitemma #itaintweaktospeak.
Join us on our Facebook Group www.facebook.com/groups/itaintweaktospeak/to share your story, breakthroughs, challenges, and to connect with other people to learn more about positive mental health.
---
Download Episode