Inspiring Women with Laurie McGraw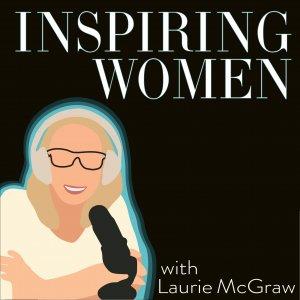 WBL Series with Sara Ratner and Sarah Richardson: Leaders with Purpose || EP. 124
June 06, 2023
Laurie McGraw is speaking with Inspiring Women Sara Ratner and Sarah Richardson at the WBL (Women Business Leaders of the U.S. Health Care Industry Foundation) Annual Summit.
These senior executives give us a window into how they build their network.  And it's not that complicated at the WBL Summit when you start with things you have in common.   Professional objectives to serve vulnerable populations at scale; thoughtful career choices to work on only what is relevant; shared beliefs that leadership means responsibility and paying it forward.
In this episode Sara and Sarah discuss career journeys that include major pivots – from hospitality to healthcare, from legal to operator – and how both feel fortunate to have had the opportunity to make thoughtful choices along the way.  Like most female executives, they have had their share of challenges along the way – from being criticized for clothing choices (you can NOT be serious!!! And yet, this is a true story…) to losing your identity when a job ends up not working out.  These challenges become defining career moments and lead to finding a new level of confidence and redefining identity around career with personal purpose.
Sara and Sarah close out our discussion with advice that has served both well along the way.  Being the leader that others want to emulate; planning for your own succession; and staying true to being nice and being kind.
About WBL
WBL (Women Business Leaders of the U.S. Health Care Industry Foundation) is a nonprofit organization housing the premier network of women executives across the healthcare industry. With 1200+ active members, WBL offers unparalleled opportunities for networking, professional development, and executive education while fostering a welcoming community of peers committed to supporting and advancing one another. 
More information on the partnership here: www.wbl.org/inspiring-women-podcast-with-wbl
About Sara Ratner
President, Government Programs at Nomi Health
An innovative leader, entrepreneur, and corporate board director in the healthcare industry, Sara is known for creating innovative strategies, services, and products amidst government scrutiny and regulation, understanding its' viability, scalability, and sustainability to ensure health equity.
Sara is the Founder of Proximal Health, a new supplemental digital health insurance company that drives high-quality hospital-based care. Previously the CEO of HealthEHR where she helped venture-backed organizations develop Medicare and Medicaid new program strategies for program development, performance, and expansion as well as other executive positions – SVP at RedBrick Health, President at NeoPath Health, and General Counsel at CVS Caremark (MinuteClinic division).
Sara is an advocate and champion for changing the mental health paradigm with a resolve and commitment to treating mental health akin to physical health. In her spare time and to foster her competitive spirit, Sara actively trains and competes as a triathlete, racing in international distance triathlons to Ironmans.
About Sarah Richardson
SVP, Chief Digital and Information Officer, Tivity Health
Richardson is a transformative, innovative, and results-driven healthcare and technology executive with experience in large-scale healthcare environments.  Through comprehensive, human centered design, she enables digital and organizational transformation of multiple organizational domains utilizing proven methods of engagement resulting in improved experiences across the continuum.
Prior to joining Tivity Health, Richardson served as Vice President of IT Change Leadership for OptumCare. Richardson also has significant health system experience, serving as CIO of NCH Healthcare System in Naples, FL and as a Division CIO with HCA Healthcare.
Richardson is an active member of CHIME as a Certified Healthcare CIO (CHCIO), board and faculty member, and fellow. She regularly publishes industry relevant content on her website at www.conciergeleadership.com. She is an Associate Certified Coach with the ICF and Distinguished Toastmaster, as well as the chair for members in transition for the SoCal Chapter of the Society for Information Management (SCSIM). Richardson holds a BS from the University of Nevada -Las Vegas, and an MBA from the University of Phoenix.
---
Download Episode